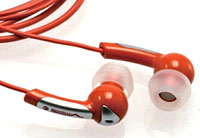 More often than not, the in-ear headphones that come bundled with MP3 players are weedy affairs, producing a feeble floppy fart of a low end when you're looking for a thunderous bass.
For drum'n'bass heads, techno fans and hip hop freaks, a little more bottom end oomph is what's needed and the folks at V-MODA reckon they've got just the headphones for the job.
Their new "Heavy Bass" headphones have been specially designed to dish out the underpant-oscillating bass, with a frequency range running from 8Hz – 22000Hz and 122dB at 20Hz.
Bass! How low can you go?
Although 8Hz sounds like the deepest, most bassiest thing ever, the truth is that you'd need to have suffered some weird sort of genetic mutation and developed elephant sized ears to hear bass notes that low.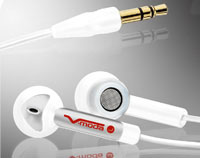 The human ear can only hear frequencies around 20 to 20,000 Hz, and that's only when you're young and healthy.
As you get older, your lug 'oles' decline rapidly – even more so if you've had a misspent youth with your head in Motorhead's bass bins – and the highest frequency that a normal middle-aged adult can hear is only 12-14 kilohertz.
It's the blokes who get it worst too, with their hearing range declining so quick that women can hear notes of higher pitch than men of the same age.
Silence is silicon
Back to the headphones, the V-MODA's use the same sort of silicon covers as the Sony Fontopia In-Ear Headphones that we reviewed last year.
These come in three sizes so that they can make a perfect airtight seal with your ears and keep the bass booming in your shell-likes.
This improved the sound no end, and the 'phones are great for using on planes and trains when you want to hear as little exterior noise as possible and don't fancy forking out for expensive noise cancelling units.
The only problem is that this sonic isolation can do strange things to your head, with your own footsteps and breathing becoming so loud that if feels like a soundtrack from a horror film has been dubbed over the music.
Not everyone has this problem though, but we strongly suggest you try out these sealed headphones before buying.
If you still reckon these are the sort of headphones for you, we can tell you that the V-MODAs come in platinum white, mango orange, jet black with a 24k gold-plated jack for maximum hi-fi quality.
They're priced at 8,480 Yen in Japan (£40, €58), but there's no news on UK pricing and availability yet.
Product specs
Bus level: 122dB at 20Hz
Frequency characteristic: 8Hz – 22000Hz
Speaker driver: 10mm neodymium rate rare ground magnet
Cable size: Approximately 77.5cm (Y letter branch cable length approximately 34cm)
Plug: High sensitivity 24k gold-plating adoption stereo mini- jack 3.5mm
Bundled contents
V-moda bass freq itself
Modawrap cable winder
Silicon year pad (small and medium, 3 size sets of large)