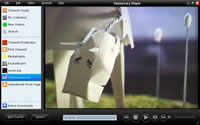 As if you don't already spend enough time looking at your computer, the folks at Democracy would like to introduce you to the delights of free Internet TV.
Democracy have just launched the latest upgrade to their open-source TV application, Democracy Player. The player offers downloads from over 300 channels of Internet video and provides RSS support, an auto-download feature and integration with Bittorrent. Democracy Player is available for Windows, Mac and 3 different flavours of Linux (Ubunu, Debian and Fedora).
The player is a breeze to use. We tested the Mac version and it looks and feels just like a well written Mac app. Functions are intuitive and smooth and there's more than a hint of iTunes about the interface. Locating videos is easy. You can browse the 300 channels via the channel guide, select from the latest popular material, run a search or add your own videos. Having located your video just double click the item to download to your computer and sit back as Democracy Player runs it in full screen mode.
For those interested in making their own videos, Democracy also offers Broadcast Machine, an application allowing you to set-up channels and RSS feeds as well as enabling video uploads, all from your own Website.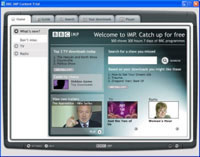 Democracy is a not-for-profit organisation dedicated to the principal of free, open access to media through the use of open-source software.
While Democracy focuses on free content, moves towards commercial Internet TV services are proceeding apace. Last week Channel Four announced its intention to launch a video-on-demand service based on 'closed' channels such as cable, BT Broadband and the Internet. The service will include a film download service offering movies typical of the channel's soon-to-be free FilmFour movie channel. There will also be a wide range of other material including Channel 4 shows and pay-for content from the archives. In addition Channel Four is expected to start online streaming of its own content (films and US exports expected) in the very near future.

Not to be out done, the BBC proposes to launch its iPlayer (previously named iMP – Interactive Media Player) service in two versions; a free service offering a seven-day catch-up for all its TV and radio output and a commercial version offering archived versions of programmes.
Elsewhere Apple continues to develop iTunes with Steve Jobs in serious talks with Hollywood studios about making movies available over the service. This may well prove to be an insurmountable challenge, given the movie industry's scattershot approach to electronic licensing, distribution and DRM.