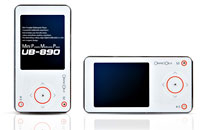 Lined up on the new product runway and awaiting clearance for take off is the slick looking Oracom UB890 portable media player.
This attractively designed pocket-rocket comes in two colours (black or white) and four versions, with the memory capacity starting at 512MB and going all the way up to a healthy 4GB.
Packing a 2.0″ 262K colour TFT LCD screen, there's enough functionality onboard to keep a Hoxton fin-toter happy for hours.
The media player covers a fair range of music formats – MP3/WMA/OGG/WAV – with MPEG, AVI, WMV and ASF (after conversion) video support.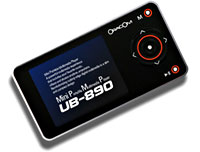 There's also built in equaliser and 3D sound and onscreen visual effects to keep the easily-bored entertained.
BMP and JPEG photos can be viewed onscreen (with zooming) and there's slideshow/wallpapers support.
A handy line-in encoder with built-in microphone lets you use the thing like an old fashioned tape recorder, and if you get fed up with your own recordings, you can turn on the built in FM tuner and record tunes off the radio – either live or by using the pre-schedule timer option.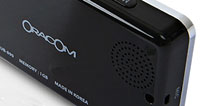 Rounding off the gadget-fest, there's also an alarm clock, sleep timer, built-in speakers (500mW + 500mW) and an iPod-esque 'Touch Sensor Key Pad' for shimmying through the menus.
Through the marvels of modern technology, all these fancy gizmos have been shoehorned into a shiny case measuring just 81 X 43 X 12.2 mm and weighing a paltry 55 grams.
The USB 2.0 (High Speed) device runs off a Li-Polymer battery (which takes a patience-challenging 3 hours to fully recharge) and Oracom claim that'll it play audio for a not-exactly-pushing-the-envelope 13 hours (MP3 128Kbps) and video for a more impressive 8 hours continuously.