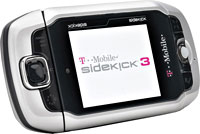 T-Mobile has finally officially announced the T-Mobile Sidekick 3, adding a new trackball controller, Bluetooth and EDGE data to the popular Sidekick 2.
The design's had a bit of a spruce up in the design factory, with sleeker lines and a narrower 131mm x 59mm x 23mm (5.2″ x 2.3″ x .9″) form factor making the device feel more like a phone.
As with earlier incarnations, the new Sidekick sports a spring-assisted, flip out display with a QWERTY keyboard lurking below.
The keyboard has been significantly improved, and now boasts proper individual keys rather than the rubberised cover seen on earlier versions.
The D-pad controller is now accompanied by a new, ergonomically-improved trackball control which replaces the older up/down roller wheel.
The speed and sensitivity of the trackball can be adjusted to suit personal preferences and (we like this bit) the trackball can glow various colours. Cool!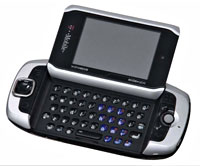 The Sidekick boasts a new 1.3 megapixel camera and assist light, with a large 65k colour, transflective TFT display supporting a rather underwhelming 240×160 pixel resolution.
Sidekick's new MP3 player lets users create M3U playlists or play music based on artist, album, genres or composers, with a Mini SD card expansion slot providing storage for up to 2GB of tunes and multimedia stuff.
In line with its all singin' and dancin' billing, the Sidekick comes with a 64MB Mini SD card in the box, along with a wired headset and USB cable.
Connectivity
With tri band support (850/900/1800MHz), the GSM Sidekick will suit jet setters flitting between the States and Europe, with a talk time of nearly six hours providing ample scope to keep up with the latest gossip.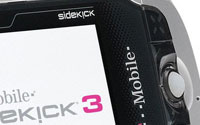 New for version three is a Bluetooth system supporting both the OBEX Push and Headset/Hands Free profiles and a mini-USB port for transferring files from a PC.
The built in web browser zips along on sites designed for mobiles (thanks to some nifty server side pre-processing and compression), but things slow down considerably when viewing regular sites, with the low res screen soon showing its limitations.
Sidekick 3 users have the option to synchronise their contacts, notes, calendar entries and email via the T-Mobile website, or they can fork out for a copy of Intellisync to synch their device directly with Microsoft Outlook on a Windows PC.
Messaging
The popularity of Sidekick phones has been assisted in no small measure by their excellent messaging abilities, with text messaging, email, and instant messaging (but still no MMS) supported by a built in spellchecker.
New for version 3 is the support for MSN Messenger and Yahoo! Messenger, supplementing the existing AOL Instant Messenger connectivity.
Compulsive chatters can now enjoy up to 10 simultaneous active IM conversations with T-Mobile's back-end server ensuring that connections and conversations won't drop if the signal is momentarily lost.
What we think
Although the rather hefty bulk and teen-friendly looks of the Sidekick may not be everyone's tastes, there's no denying that it's a very capable phone supported by some fun features.
There's not enough functionality to tempt us from our beloved Treo 650, but for the targeted demographic – teens/fashion victims/schlebs etc – the Sidekick looks sure to prove a hit.
Shame about the poor screen though.
Specs:
Tri-band GSM/GPRS/EDGE
Display 240 x 160 pixel, 65,000 colour display
Trackball
Bluetooth 1.2 (limited to Hands-Free profile and vCard exchange)
1.3 megapixel digital camera w/LED flash
miniSD memory card slot (supports up to 2GB cards)
64MB of SDRAM/64MB Flash memory
Music player software
Size: 130 x 59 x 21.8mm
Weight: 6.7 ounces