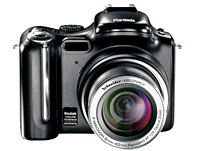 With a flurry of clicking and whirring, Kodak have announced their new Easyshare P712 superzoom digital camera, offering a 12x image-stabilised Lens, a 7.1 MP sensor and enough manual modes to please compulsively tinkersome photographers.
The camera sports a veritable animal of a zoom, with the f2.8 – f/3.7, Schneider-Kreuznach Variogon lens covering a whopping 36 – 432 mm range (35mm equivalent).
With such a long lens, things are likely to get wobbly at the telephone end, so there's built in optical image stabilisation to help ward off blurificartion.
Faster than the blink of an eye
The boys and girls at Kodak are making bold claims for their new camera, saying that P712's auto-focus system boasts a 'best-in-class' click-to-capture rate – literally faster than the blink of an eye, they say.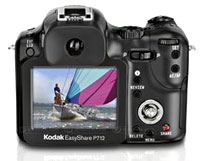 We've never bothered to work out how fast we blink, but Kodak tell us that their 0.07 seconds capture rate is faster, and who are we to argue?
Made for sharing
The Easyshare comes with a large 2.5-inch, high-resolution, LCD and electronic viewfinder for framing and reviewing pictures, with the Share button making it easy to, err, share pics using Kodak's, err, Easyshare software which, like Quality Street, was apparently made for sharing.
As is de rigueur with consumer digicams, the camera can record video at a TV-quality, 30 frames-per-second VGA video with sound (MPEG4), with onboard facilities to split, cut, merge and trim footage or create single-frame or multi-frame "storyboard" still pictures.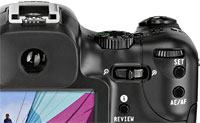 Flashing it about
As well as the built in flash (guide no. 11, ISO 100 ), there's a also a hot shoe connector for attaching the optional Kodak P20 zoom flash (which knocks out for around a ton).
Rounding off the feature set is the usual legion of scene, program, aperture/shutter priority and manual shooting modes, a hefty wad of preset scene modes and multiple burst modes for action shooting.
There's also a live histogram display; 25 selectable AF points; custom white balance with selectable compensation; highlight/shadow clipping displays; and, in line with its semi-pro aspirations, RAW file support.
The P712 camera should be shuffling onto UK shelves around about now, with a suggested retail price of £350 – which, puts it in direct competition with the highly rated and far more versatile Nikon D50 dSLR, which starred in our 'Best of 2005' list.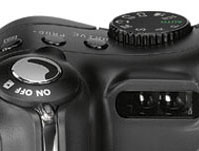 Kodak EasyShare P712 specifications
Sensor 1/2.5 " Type CCD, 7.1 million effective pixels
Image sizes 3072 x 2304, 3072 x 2048 (3:2), 2592 x 1944, 2048 x 1536, 1280 x 960
Movie clips 640 x 480 @ 30fps, 320 x 240 @ 30fps, QuickTime video, motion JPEG
File formats JPEG (Exif v 2.21), RAW, TIFF
Lens 36 – 432mm equiv, Schneider-Kreuznach Variogon lens, 12x optical zoom
Image stabilization Yes
Conversion lenses Optional
Digital zoom 5x advanced
Focus Hybrid AF system using TTL contrast detection method and external passive sensor
Focus modes Normal AF, Macro AF, Infinity AF, Manual focus, Multi-zone, Center zone, Selectable zone (25 zones selectable)
AF assist lamp Yes
Focus distance Normal: 50cm – infinity (wide) 1.9m – infinity (tele)
Macro: 10-60cm (wide) 90cm – 2m (tele)
Metering Multi-pattern, Center-weighted, Center spot, Selectable zone (25 zones)
ISO sensitivity Auto, ISO 64/80/100/125/160/200/250/320/400/800
Exposure compensation +/- 2.0 EV, 1/3 EV steps
Exposure bracketing +/- 2.0 EV, 1/3, 2/3, 1.0 EV steps, 3 or 5 images
Shuttter speed 16 – 1/1000 sec in 1/3 step increments
Aperture F2.8 – 3.7
Modes Auto, SCN (scene mode), P (program mode), A (aperture priority mode), S (shutter priority mode), M (manual mode), C (custom mode), video
Scene modes Pportrait, self-portrait, sport, party, landscape, night portrait, night landscape, snow, beach, text/document, flower, sunset, candlelight, backlight, manner/museum, fireworks, panorama White balance Auto, daylight, cloudy, open shade, sunset, tungsten, fluorescent, click WB, custom
White balance fine tune Blue/red bias and magenta/green bias, ±7 stops
Self timer 2 / 10 secs, 2 shot option
Continuous shooting First burst (approx. 1.6 fps up to 14 frames at standard JPEG), Last burst (approx. 1.6 fps last 5 frames at standard JPEG)
Image parameters High colour, natural colour, low colour, sepia, black and white, Contrast (3 levels), Sharpness (3 levels)
Flash Guide no. 11 (ISO 100)
Range: wide – 0.9-4.7 m (2.9′-15.4′), tele – 2.0-3.6 m (6.6′-11.8′)
Modes: auto, fill, red-eye, slow sync (front, front-red-eye, rear), off
Compensation: ±1.0 EV with 1/3 EV steps
Viewfinder Electronic, 237 K pixels with diopter adjustment
LCD monitor 6.35 cm (2.5″) indoor/outdoor colour TFT display with adjustable brightness setting
Connectivity A/V output (NTSC or PAL, user-selectable)
Storage SD/MMC card (none supplied), 32MB internal memory
Weight (no batt) 403g
Dimensions 108 x 84.2 x 72 mm (4.3″ x 3.3″ x 2.8″)