If you find that the modern world is just to fast, too brash, too complicated and just too goddamn digital, you may find TEAC's new R1 AM/FM Radio the antidote to all those bleeping bits and bytes.
Sporting a classic styling (that worryingly reminds us a bit of Doctor Who's Cybermen), this is a retro radio that looks like it will be happier blasting out Bill Haley rather than Radiohead.
For starters, there's not a single LCD, OLED or LED screen in sight, with just a solitary blue light on the large rotary tuning dial serving as a reminder of what century we're in.
With no station presets on board, users have to find stations the old way, lining up the frequencies etched on the dial against the blue light, while level-tweaking, graphic-preset pushing EQ freaks will have to look elsewhere as the R1 comes with just two stately controls – old fashioned bass and treble.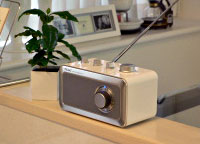 Although -disappointingly – there's no DAB radio to be found onboard, TEAC has included a line-in socket so that users can play back tunes from new fangled iPods or other players.
The R-1W measures up at 238 × 134.5 × 127mm, weighs a reassuringly solid 1.4kg and is expected to start appearing in the shops around now.
There's no UK price announced yet, but we've seen it on Americans sites advertised around the $100 (£54) mark.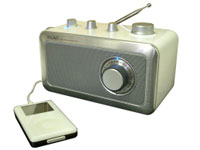 Specifications
High-Quality AM/FM Analog Tuner
Gear-Reduction Tuning Dial For Ultra-Fine Tuning
Separate Bass And Treble Controls
Function Selector: AM/FM/AUX/OFF
Large Rotary Volume Control Knob
Telescoping FM Antenna For Outdoor Use
FM "Pigtail-Style" Antenna For Indoor Use
Rear-Panel Headphone Jack
Rear Panel Auxiliary Input (Mini-Jack)
Auxiliary Cable Included For Easy iPod Connection
Auxiliary Input And Cable Compatible With Any Device With A Headphone Output
Integrated Handle For Easy Portability
Built-In Rechargeable Battery
AC Adapter
Dimensions: 9.3″ W x 5.1″ H x 5.2″ D
Weight: 3.3 Pounds