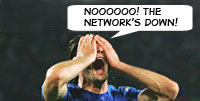 According to Internet research firm Nielsen/NetRatings, the BBC Sport Website is the most popular online source for World Cup news in the UK, with over 1.3 million footie fans visiting the site in the first week of the tournament.
With more than half of all footie fans choosing to visit the BBC Website, there must be glum faces at Sky Sports, whose online World Cup offering attracted four time less traffic than the Beeb.
Not surprisingly, there was a spike in traffic on Sunday, as surfers followed England's half-arsed win over Paraguay online, with a similar peak the week before as troubled England fans tuned in to find out about Wayne Rooney's final metatarsal injury scan.
"Traffic during the week peaked the day after the first game with over 1.1 million sports fans going online," said Alex Burmaster, European Internet analyst at Nielsen/NetRatings.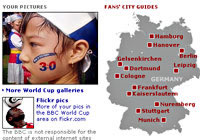 "The large audience figures for the weekend shows the major advantages the Internet has in on-demand content," he added.
The BBC Sport Website includes new features to keep punters coming back for more, with player ratings and virtual replays accompanying the live streaming video of every match shown on their TV network.
Ben Gallop, editor of BBC Sport Interactive cranked his chuffed-o-meter up to '11' and enthused, "We're delighted with the audience figures we've seen for the first few days of the World Cup."
Goal! And crash goes the server!
Some office bosses may not share his joy though, as we predicted the BBC's decision to show England matches online could see WANs and LANs collapsing in a heap under the strain as office staff tune into the footie.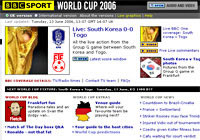 Mike Hemes, country manager for UK and Ireland at Packeteer, reckons that the bandwidth-busting footie action could cause big problems for IT managers, commenting: "It is likely that millions of workers will log on to watch matches due to faster Internet connections at work than at home …this will generate a huge surge in network traffic, eating into the bandwidth available to run business-critical applications effectively."
Licence fee warning
Elsewhere, the BBC has warned firms who let staff watch the World Cup on their office networks that they could be hit with a hefty £1,000 fine if they do not hold a TV licence.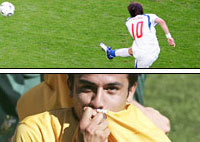 Legally, a TV licence is required for any device that is "installed or used" for receiving television broadcasts, so that a networked PC used for streaming games needs a licence as well as the gogglebox at home.
"It doesn't matter how you're watching, if you are watching a live match you will need a licence," insisted a finger wagging TV Licensing spokesperson.
Hinting at dark, omnipotent powers, the spokesperson added: "We know exactly which unlicensed business premises to target."