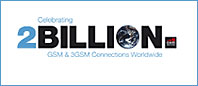 The second billionth GSM mobile phone is expected to be connected this weekend according to the GSM Association (GSMA).
This historic milestone has been reached as mobile phone sales continue to go ballistic worldwide, with new users signing up at the rate of 1,000 per minute to GSM and 3GSM services (that's just under 18 per second stat fans!).
"This is the fastest growth of technology ever witnessed," exclaimed Craig Ehrlich, Chairman of the GSMA.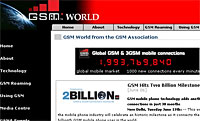 "While it took just 12 years for the industry to reach the first billion connections. The second billion has been achieved in just two and a half years boosted by the phenomenal take up of mobile in emerging markets such as China, India, Africa and Latin America, which accounted for 82% of the second billion subscribers," he added, breathlessly.
Although it seems hard to remember a world without vibrating, bleeping little talk boxes lurking in our pockets, it was only back in 1991 when mobile services based on GSM technology were first launched in Finland.
From those freezing Finnish acorns a whopping great global network has flourished, with more than 690 mobile networks providing GSM services across 213 countries.
GSM/ W-CDMA/3GSM now accounts for 82.4% of all global mobile connections, with 3GSM users making up just 72 million of the two billion total.
The top three
Today, fast-developing China is the biggest single GSM market on the planet, boasting more than 370 million users.
In second place is Russia with 145 million, followed by India with 83 million and the USA with 78 million users.
Such is the popularity of mobiles in India that they have become the fastest selling consumer product, shunting trusty bicycles into the number two slot.
More users in the developing world
With GSM hitting two million, GSM can now claim to be the first communications technology to have more users in the developing world than the developed world, with affordable prices helping to bridge the 'digital divide.'

The GSM Association continues to develop initiatives to help folks in the developing world gain access to mobile communications, developing a sub$30 low cost mobile phone and putting pressure on governments to remove tax barriers on mobile products and services.
If you're the kind of person that like to be right there when the big two billion figure is hit, you can while away the hours watching the total update on the GSM World homepage. Too much excitement!