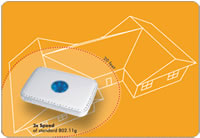 If you're after super-fast Wireless kit and don't mind the possibility of buying/refreshing your kit this could well be for you, if not we thought it would be best to start this article with a warning. Although the new PreN RangeMAX NEXT kit looks nice, there is a caveat (ours).
"This equipment is based on an unratifed standard and it is unlikely to interoperate with other equipment from this vendor or any other vendor. When the final specifications are ratified this equipment is very unlikely to meet that standard so purchase at your peril".
Of course Netgear are not going to say that, or any other vendor of so called preN equipment.
The background on standards
The current draft of the IEEE 802.11n standard (v1.0) which manufacturers are working to, failed to be ratified with over 5,000 objections. When 802.11g equipment was released the draft had progressed much further and even so there were only about 500 objections. This means that some changes will probably be only software modifications – that can be provided by Netgear at some point in the future, however there's a good chance several will be changes at the radio level which will require new silicon (i.e. chipset modifications). The standard isn't likely to be ratified for another year, and then silicon will appear in the year following.
Netgear are saying they are being driven by the market, and the market wants kit now as it can offer significant throughput increases over current equipment.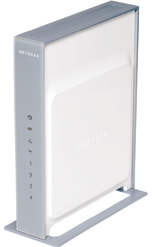 RangeMax Next Wireless ADSL Modem Router – DG834N
This is an ADSL2+ router, with a 4 port Ethernet switch and wireless interface. The Ethernet switch supports 10 or 100Mb/s.
It works with the WN311B PCI card or the WN511B PC Card, however, there's no USB adapter yet.
In theory, the system support 300Mb/s, though throughput is more likely to be around 120Mb/s which is generally good enough for streaming video and other high bandwidth applications.
The router has a firewall built in, supports WEP and WPA (wireless encryption standards), and various parental controls.
While with 802.11b/g networks the channel has to be selected, now the router takes care of this for you and selects channels based on what it can "hear", which makes set-up much easier and should give the customer the best throughput available.
There's also a cable version called the WNR834B which gives an extra Ethernet port and dispenses with the ADSL2+ modem.
Be sure not to have an existing wireless LAN using 802.11b/g in the vicinity as current preN equipment tends to splat all over it (which isn't a good thing).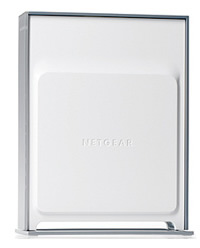 RangeMax Next Wireless Routers – Gigabit Edition – WNR854T
This is similar to the WNR834B, except it supports 10/100 and 1000Mb/s Ethernet ports.
The WN511T is the matching PC Card which works with it.
Interoperability
Even Netgear admitted that the WN311B/WN511B shouldn't be used with the WRN834B or the WN511T with the DG834N or WNR834B. That's because they use different chipsets, and they don't work well together. They will still work, but not using preN, they'll fall back to using 802.11g (and MIMO).
If Netgear can't get their own kit to interoperate, it's going to be just as bad or worse with other vendors, so customers had better make sure they buy all their equipment from the same vendor.
Even Intel, who are wireless mad at the moment are not supporting preN, and won't until the standard is ratified.
MIMO
Multiple in Multiple Out. That's a techie way of saying steerable beams. preN equipment has multiple aerials in the access point (ADSL or cable router) which work out the best signal heard from a client, and then use that aerial combination to send the best signal back.
This theoretically gives much better coverage and throughput, as clients connecting don't necessarily don't interfere with each other, while the steerable beams means a better radio signal to the client.
MIMO technology is already available on various wireless kit, including Netgear's RangeMAX range.
Other noticable announcements
There's some new powerline equipment coming out. The consumer variant supports 14Mb/s over the house electrical wiring. The new 85Mb/s business variant will be released later on in the year.
Be sure to enable security on the units, or anyone in the street on the same power loop will be able snoop all your traffic!!!
Media is the buzz
Though only a prototype so far, Netgear's DEVA unit is an HD streaming client, supporting pictures, video and High Definition video. It will support preN and probably have a HDMI connection to the TV.
It supports Windows Media Connect, so automatically picks up any Windows XP servers with content on them. Other streaming sources will be supported by launch.
Pricing
The preN routers will cost around £170 ($310, E250)and the cards around £120 ($220, E175), products should be available imminently.