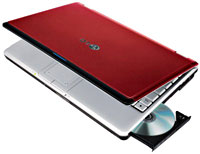 LG has announced their new multimedia-tastic 12-inch notebook PC, the LW25 EXPRESS DUAL, which is, apparently, "a portable multimedia powerhouse."
Building on the success of last year's LW20 EXPRESS, LG's sleek new lappie serves up a beefed up performance courtesy of a dual-core processor.
The attractive laptop also comes with the latest BlueCore4 technology, which allows for snappier wireless connections between other devices as well as support for the extra-nippy Gigabit Ethernet.
The 12.1″ WXGA (that's 1280×800 in English) display comes with LG's Fine Bright Technology, and is supported by an Intel GMA950 graphics card (up to 256MB).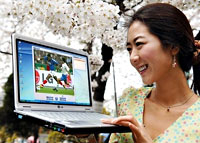 The built in optical drive (or Super Multi ODD as LG likes to call it) supports playback and recording of all existing optical media formats inluding dual-layer DVD burning, allowing you to cram up to 8.5GB data on a single DVD.
LG are also claiming full support for Microsoft's soon-come-but-don't-hold-your-breath Vista operating system, so it looks reasonably 'future proofed.'
The LW25 looks to be a good choice for road warriors too, weighing a shoulder-pleasing 1.89 kg (including batteries and an ODD) with the six-cell, 5,400-mAh battery providing a claimed battery life of up to six hours.
Photos are still thin on the ground, but we like the look of what we've seen so far, with the LW25 available in natty red or blue finishes.
The warranty is more impressive than most as well, with 3-year cover and a first year international warranty.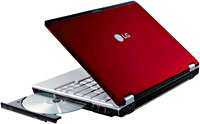 As for pricing and availability, your guess is as good as ours at the moment as LG seem to be keeping mum.
Specifications:
Processor Intel Core Duo Processor T2400(1.86GHz) ~, 667MHz FSB, 2MB L2 Cache
Chipset Mobile Intel 945GM Express
Display 12.1″ WXGA(1280×800), Fine Bright Technology
Graphics Intel GMA950 (up to 256MB)
HDD 60GB
Wireless Intel Pro/Wireless 3945ABG(802.11a/b/g)
Bluetooth Yes (BlueCore4)
Multimedia Card
Slot 5-in-1 (XD/SD/MMC/MS/MS Pro)
Audio SRS TruSurround XT, SRS WOW XT, 5.1CH Dolby Digital, XTS Pro, 24bit High Definition
Warranty 3yrs Parts & Labour, 1st yr international
Casing Red or Blue