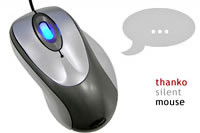 Is your late night keyboard clattering keeping your partner awake? Is your incessant mouse-clicking sending your friends mad? Or have you just got a bit of a problem with clattering, clicking things?
Then be thankful for Japanese manufacturers Thanko, who have produced a matching silent keyboard and mouse combo for the noise-bothered.
Silent Mouse, Scrolly Mouse
The silent mouse is a standard looking affair with two mouse buttons and a scroll wheel, but the makers claim that both the wheel and the mouse buttons have been silenced to one-fifth that of a normal mouse.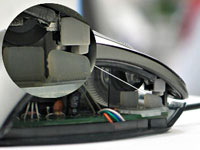 The illustration on their site seems to suggest that they've achieved this hush factor by simply slamming in a slab of silicone stuff into the mouse, but we're sure there must be a bit more hi-tech jiggerypokery involved than that (surely?!!).
Sporting an 800 dpi optical sensor and measuring up at 60x105x35mm with a weight of 90 grams, the USB Silent Mouse is compatible with both Microsoft Windows 2000/XP and Mac OS X, and is available from dynamism.com for $35 (~£19, ~€28).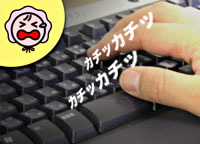 The keyboard that's as quiet as a, err, mouse
Partnering the shhhhhhhh-tastic mouse is Thanko's new Silent Keyboard, a silver and black USB affair.
Once again, Thanko have broken out the silicon to dampen the rattle of keys down to a hush-hush 30.2db, which should let you bash out your magnum opus late at night while your partner/cat/pet donkey snoozes on undisturbed.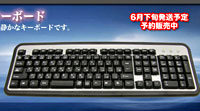 It's a pretty basic looking affair with none of the groovy extras that Logitech like to bolt on, so gadget freaks are unlikely to be impressed.
Release date is set for the end of the month, priced at around 4,000 Yen (~£19, ~€28)