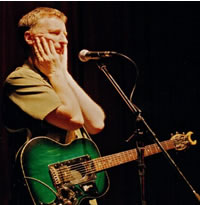 There's mutterings of some discontent around MySpace, the insanely popular social site.
Billy Bragg, well known in the UK for his rebel-rousing tunes, has taken a stance against MySpace by removing his music in protest of MySpace's Terms and Conditions.
Bragg and 'his people' posted a comment on their MySpace blog (we do love it when a companies tools are used against them), decrying what they say are completely unreasonable terms.
TERMS: (as of 17th March 2006)
By displaying or publishing ("posting") any Content, messages, text, files, images, photos, video, sounds, profiles, works of authorship, or any other materials (collectively, "Content") on or through the Services, you hereby grant to MySpace.com, a non-exclusive, fully- paid and royalty-free, worldwide license (with the right to sublicense through unlimited levels of sublicensees) to use, copy, modify, adapt, translate, publicly perform, publicly display, store, reproduce, transmit, and distribute such Content on and through the Services. This license will terminate at the time you remove such Content from the Services. Notwithstanding the foregoing, a back-up or residual copy of the Content posted by you may remain on the MySpace.com servers after you have removed the Content from the Services, and MySpace.com retains the rights to those copies.
The summary? MySpace can exploit the music/content that is put on the site, worldwide, without payment – and sub-license it infinitely.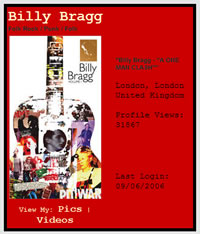 The original Bragg posting was made back in mid-may, but was highlighted when it was picked up by the New York Daily News this week.
Since then, there have been many announcing the impending death of MySpace with thoughts that all musicians would follow suit and MySpace would implode. As yet we haven't seen any signs of this.
It appears that MySpace didn't intend to own everything and are putting it down to sloppy lawyering and say they intend to straighten things out. MySpace spokesman Jeff Berman, told the New York Daily News, "Because the legalese has caused some confusion, we are at work revising it to make it very clear that MySpace is not seeking a license to do anything with an artist's work other than allow it to be shared in the manner the artist intends," adding the all important. "Obviously, we don't own their music or do anything with it that they don't want."
There's a difficult balance to be had here. Clearly MySpace is putting out millions of musicians tracks daily and needs to be able to do this, without having a separate contract with each artist. Running alongside this need is the equally important need not to terrify the musicians into thinking that all of their music are belong to us (MySpace).