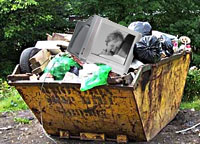 In a few years time, kids will be clutching their sides and laughing at the thought that their parents used to watch TV on massive great boxes that filled up half the living room.
We know this because a new report tells us that LCD TVs are the future, with worldwide ownership of the slimline goggleboxes overtaking lardy CRT TVs in 2010.
According to a new analysts iSuppli, sales of LCD TVs are positively hurtling along, with shipments expected to rise by 74 per cent to 46.7 million units this year – way up on their original estimate of 41.9 million units.
After wheeling out their extrapolation-o-meter and pulling assorted levers and flywheels, the company predicts that LCDs will account for 48 per cent of TVs shipped in 2009, while chunky old-school CRTs will struggle with just 42 per cent.
By the next year, the report predicts that LCDs will account for a hefty 56 per cent of all TVs shipped.
Sales of rear-projection TVs and plasmas look set to remain a small part of the overall market, claiming just 3 percent and 7 per cent of the market respectively in 2009.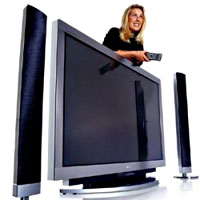 Style over picture
Although punters are happy to plunge headlong into the lithe, angular world of the LCD TV, many still believe that the 'umble CRT TV still provides better picture quality – and what's more, they cost less.
However, declining LCD TV prices brought about by improvements in manufacturing continue to bring the once stratospherically-priced TVs into the economic reach of your average punter, with the average price of 32-inch and 40/ 42-inch LCD TVs falling by 17 per cent and 14 per cent respectively in the last five months.
LG.Philips remain the raging King Kongs of the LCD TV manufacturer jungle with the biggest slice of the market, followed by Samsung, China's Chi Mei and Acer-owned AU Optoelectronics.
In the fourth quarter, South Korea produced nearly 45 per cent of the world's LCD TVs, with Taiwan grabbing 40.1 per cent.