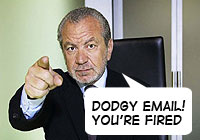 New research from messaging security specialists Proofpoint has revealed that more than a third of blue-chip companies in both the US and UK hire dedicated staff to snoop on their employee's emails.
Their survey of 112 "email decision makers" at UK enterprises with 1,000+ employees found that 38 per cent of firms employed staff to read, analyse or generally sniff about outbound emails from staff (a figure that rises to 40 per cent for companies with more than 20,000 employees.)
A total of nearly 62 per cent UK companies were found to perform regular audits of outbound email content.
UK companies estimate that nearly 1 in 5 outgoing emails contains content that poses a "legal, financial or regulatory risk" with the most common form of non-compliant email content containing "adult, obscene or potentially offensive" content (or, more likely, staff trying to lighten the misery of their dull jobs by sharing a joke).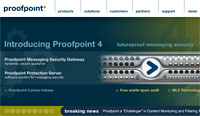 With companies becoming more concerned about internal security breaches rather than external threats, 34 per cent of companies claimed that their business was impacted by the exposure of sensitive or embarrassing information over the last year.
With all this secret email snooping going on, bosses have been delivering "You're Fired!" messages with gusto, with more than one in three sacking an employee for violating email policies in the past 12 months.
There's also been lots of finger wagging going off in the boss's office, with over 70 per cent of UK companies disciplining an employee for violating email policies in the last year,
The report goes on to sat that just over a fifth of UK companies have given employees a shoutdown for violating blog or message board policies in the past 12 months, with 3.6 per cent getting the boot for their troubles.
Fear the email
Nearly half of UK companies declared themselves to be concerned about Web-based email being used to send confidential or proprietary information, with 81.3 per cent saying that it is "important" to reduce the legal and financial risks associated with outbound email in the next 12 months.
Of course, it's worth noting that the folks who commissioned the survey – Proofpoint – just happen to run a business offering secure/filtered messaging systems, so it might be an idea to seek out the saltcellar when reading their report.
Email-free workzones
Looking to the future, Graham Titterington, principal analyst at Ovum, sees the automated blocking of outbound mail as the future security choice for most companies, as it would sidestep the current grey area concerning the legality of monitoring personal emails.
Quite how they'd the deal with terminally bored employees deprived of a lifeline to the real world may be another matter though.