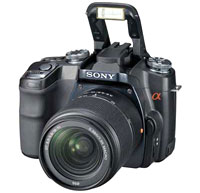 Some details of Sony's eagerly-awaited debut into the dSLR market have begun to emerge online.
The Australian Digital Photography Blog website has revealed that Sony's new Alpha 100 dDSLR will offer 10.2 million effective megapixels and be fitted with an APS-C size CCD sensor.
As previously announced, Sony's first dSLR camera will use an updated lens mount compatible with Konica-Minolta Alpha/Maxxum/Dynax lenses, with Sony expected to reveal a slew of new Sony G lens using the highly regarded Carl Zeiss optics.
The camera is expected to carry a large 2.5 inch format Clear Photo LCD Plus Screen with AR coating and a resolution of 230,000 pixels.
The bright optical viewfinder comes with a Spherical Acute Matte screen, 20mm eye relief, 0.83x magnification, dioptre adjustment and an interesting EyeStart Auto focus.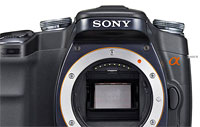 This feature – inherited from Minolta -begins autofocus and auto-exposure as soon as it detects your peeper gazing through the viewfinder. Neat
The camera is also rumoured to be incorporating Sony's Super SteadyShot Picture Stabilisation technology, which employs horizontal and vertical motion sensors located inside the lens assembly area.
Although there's no firm details of pricing yet, some pundits are estimating a street price of $1,000 (body only) which places it in the highly competitive enthusiast market.
Other leaked details include an Anti-dust protection system (We like these – a lot!), 1600 ISO equivalent, Burst shooting, advanced flash modes and BIONZ Image Processing Engine.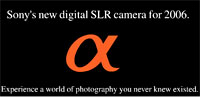 The onboard high-speed autofocus is said to sport 4 focus modes – Single-shot AF; Direct Manual Focus; AF Automatic; AF Continuous – with centre-weighted, spot and 40-segment honeycomb pattern metering modes.
The Sony Alpha 100 looks to weigh in at 545g without battery, with dimensions of 94.7 x 133.1 x 71.3 mm (L x W x D).
We should point out that Sony don't actually call it the 'Alpha' in print, preferring to use the arty squiggly symbol (a bit like popstar Prince and long forgotten 80s nobby band Freur), but we couldn't be arsed to try and find that on our keyboards.
Sony is expected to make an official announcement about the Alpha 100 later this month, but if these tempting specs are on the money, Sony could be set to make a big splash in a market currently dominated by Canon and Nikon.