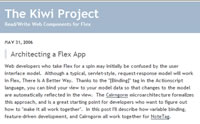 Adobe has made available a proof-of-concept version of their new productivity tool, NoteTag. NoteTag harnesses Web 2.0 standards (such as RSS and tags) and integrates them with social software services. It allows users to take electronic notes and share them in a multi-user, collaborative environment. NoteTag users can quickly record, assign and update tasks locally from within the Web-based system but can also access them on Blogger, Typepad and del.icio.us.
The really clever bit of NoteTag is that Blogger, TypePad and del.icio.us are the back end of the system. There are no proprietary file formats or technologies; instead, NoteTag is built on current tagging standards and so can interface with anything that supports the Atom Publishing Protocol.
NoteTag is the first release from Adobe's Kiwi Project which aims to create rich Internet content using Flex2 technology. The software is open source and free, and the project is keen for users to feedback their experiences and comments.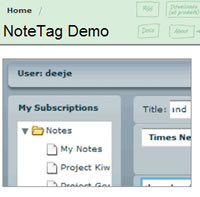 As bloggers Stowe Boyd and Steve Rubel and have noted, NoteTag is somewhat complex to get up and running and needs to be hosted on a server, but its integration with Web 2 services points to interesting new directions for Adobe.
A NoteTag demo and a Kiwi Project blog are available.