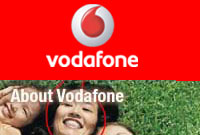 In the normal world, if you'd just discovered that your business had lost £14.9bn ($27.9bn) in a single year, you'd be blubbering into your laptop or heading to the pub to down a vat of Old Scrote's Badger ale.
But in the crazy world of uber-corporate business, such a loss – the biggest ever recorded for a UK firm – has been spun around to be grrrreat news, with Reuters reporting that Vodafone has gleefully, "unveiled plans to return an extra 3 billion pounds to shareholders."
So how does the "the biggest annual loss in European corporate history on write-downs" turn out to be a cash feast for shareholders – who are already looking forward to a slice of the £6bn earmarked after the sale of its Japanese venture?
Well, it's all down to corporate assets not matching their buying price – in this case, German business Mannesmann, which Vodafone bought for £112bn ($183bn) six years ago.
With the actual income generated by the company not living up to its mighty price tag, Vodafone has shunted the value of the Mannesmann subsidiary downwards on its books – a process known in the hip'n'exciting world of accounting as a write-down.
Conversely, Vodafone has been raking it in recently, scooping in monster £8.8bn operating profits last year, while adding 21 million new customers.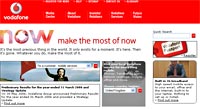 In the white-hot mobile phone segment, Vodafone continues to create growth in key markets such as Germany, Spain and the United States, despite being forced to scuttle out of Japan – selling the business for £8.9bn – after failing to make much of a mark in the country.
Vodafone insists that its business remains fundamentally healthy, despite the whopping losses, with CEO Arun Sarin purring, "Vodafone has met or exceeded expectations, outperforming its competitors in an increasingly challenging marketplace."
"Vodafone is well positioned to deliver on its strategy," he continued, thumping the table in a positively aligned, upbeat manner.