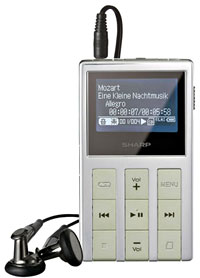 Details are still a bit sketchy on these shiny new fellas, but Sharp's new range of flash based MP3 players sure look mighty purdy to our jaded eyes.
Boasting a stylish crystal mirror-finish, the new flash-based MP3 players look set to keep even the tightest of trousers unruffled, with the sleek-n'slimline beasties measuring just 8.9mm thick and weighing a mere 65 grams.
The players come in four natty shades – silver, blue, black and lead grey – with the Sharp MP-B200 offering 512MB of flash memory and the top of the range MP-B300 coming with 1GB memory.
To keep music mad punters fully stocked with tunes while on the move, both players offer extra capacity in the shape of a miniSD slot, with the audio player offering WMA-DRM and MP3 file format support.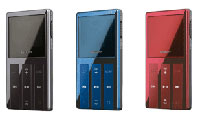 As is de rigueur these days with (non Apple) MP3 players, there's an FM tuner onboard with direct audio encoding – great for recording radio shows or capturing your mobile mumblings via the built in microphone
The built in audio player comes with WMA-DRM and MP3 file format support, and sports a useful audio in function.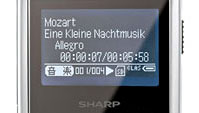 The measurements of the MP-B200 and MP-B300 are 49 x 87.6 x 8.9mm – pretty damn small, but positively bun-scoffing compared to 6.8mm thickness of the Apple iPod.
No news of pricing or UK availability yet, but it should be in Japanese stores from next month.