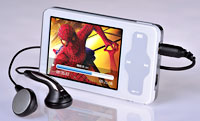 After consulting the well thumbed iPod design book, Chinese electronics manufacturers Meizu have rolled out their new Meizu Mini, a truly Lilliputian Personal Media Player.
Despite its me-too design influences, the pocket-sized Meizu looks to be quite an interesting PMP device, sporting a large 2.4″ 260K-Color QVGA (320×240) TFT LCD screen, backed by up to 4GB of memory.
Meizu have also bolted on FM support (76Mhz-108Mhz) with up to 50 preset channels, and there's a microphone socket for voice recording – pretty impressive for a device smaller than a credit card (79mm x 48.2mm x 10mm, weight 55g).
Media compatibility comes in the shape of support for MP3/WAV/OGG/WMA audio files, Xvid for video and BMP, JPG, GIF photo playback up to 1024×1024 resolution.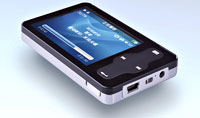 Other onboard gizmos include Synchronized Lyric Display, E-book, alarm clock, calculator, calendar and some (unspecified) games.
Battery life is claimed at a decent 20 hours of battery life for audio and 6 hours for video playback, with charging taking less than 2.5 hours.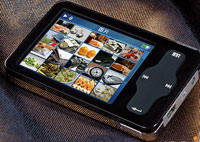 So far we've only seen Chinese language screen shots but the interface seems crisp and slick enough to us.
PC connectivity is via USB 2.0 with claimed transfer speeds of 8MB/s Read and 5MB/s Write.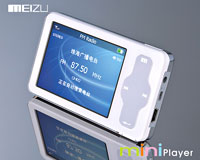 The player comes with a white or black finish and a metal back just like the – yep, you've guessed it – iPod.
There's multi-language support onboard covering English, Simplified Chinese, Traditional Chinese, Japanese and Korean languages, which suggest there's a remote hope it may find its way into the UK (or at least be available by mail order). Or maybe not.