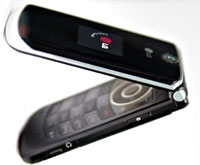 LG has unveiled the KG810 clamshell phone; a super slim, quad band GSM handset which will be sold in Asia, China, Europe and CIS markets.
Although we're not generally fans of the clamshell phones (our attempts to casually flip the things open one-handedly invariably saw the phone flying off into the distance), but the KG810 is certainly a bit of a looker.
Like the slider KG800 chocolate phone, the KG810 features the same external "Infrared Sensor" buttons on the front for controlling music playback.
These work by heat detection, so there should be little chance of you activating the controls when the phones in your pocket – unless you're in the habit of carrying hot coals around in your pants, of course.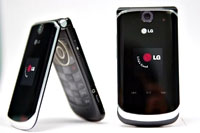 Under the screen there's a touch-sensitive keypad and a fairly healthy 128 MB of internal memory.
Naturally, the phone comes with all the usual multimedia widgets we expect to see on 'lifestyle' gadgets, with a 1.3 megapixel camera with video recording, bluetooth, FM radio, voice memo and music player bringing up the feature set.
It's a pipsqueak of a phone too, measuring a handbag-unbulging 14.6mm thick. Pricing and availability is not known yet.
There's been wide confusion over this, so let's clear it up for you. The KG810 isn't part of the Black label, design-driven phone line. The KG800, the 'Chocolate phone' is – and is currently the only phone in the Black label range. Thank to LG for getting in touch about this and clearing it up.
Barrel scraping celeb-fest
LG have been keen to insist that their 'Black labal' range of phones will lead punters into a world of impossible glamour and sophistication, with a recent glitzy London launch seeing freebie phones dished out to schlebs like Pierce Brosnan, Gwyneth Paltrow and Claudia Shiffer (our invitation must have got lost in the post).
Although these stars were clearly happy to scoop up any expensive freebies coming their way, when it came to electing the UK's "primary Chocolate phone ambassador," LG found the celebrity cupboard somewhat bare.
Finally settling on a barrel-scraping Z list 'celebrity' – whom we suspect wasn't their first choice – LG awarded Colleen McLoughlan the ambassador's job, enthusiastically insisting that she is a 'fashion icon.' LG _insist_ that Colleen was their choice numero uno, seeing her and her recent transformation to a 'girl of style' as perfect for the phone.
Just in case you're not in tune with the world of 'fashion icons' we can inform you that Ms McLoughlan is in fact the girlfriend of nobbled England footie star, Wayne Rooney.
We can see that impressed you.
"The LG Chocolate phone is working as an accessory for any outfit. It's unique, sleek and exactly the right size to pop into any handbag for any occasion. The black and red theme really makes this phone stand out and the touch sensitive buttons make it beautiful," she enthused to anyone who would listen.