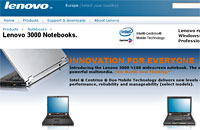 In a novel venture to bring personal computing to everyone, Microsoft has hooked up with laptop manufacturer Lenovo and chip makers AMD and Intel to launch a 'pay-as-you-go' service for buying PCs.
Using a model similar to prepaid mobile telephone services, consumers can get their hands on a Lenovo desktop PC by paying about half of its street price up front, and then paying the balance over time by buying prepaid cards from Lenovo.
The 'pay as you go' deal is made possible through a new Microsoft technology called FlexGo, with users owning the machine outright once they've bought a predetermined number of usage hours via the prepaid cards.
The FlexGo machines use a fully-fledged version of Windows XP that comes with a timer counting down the hours in the upper right-hand corner of the PC screen.
As the timer runs down, the PC delivers a series of alerts before limiting access to programs and features, and ultimately ceasing to work altogether until more time is purchased (by prepaid card or online).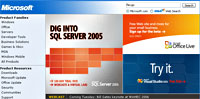 "Today there are already more than 1 billion prepaid mobile phones used around the world, so we know FlexGo enables a familiar and comfortable pay-as-you-go model that works for people with variable or unpredictable income", said Will Poole, Microsoft's senior VP of the Market Expansion Group.
Microsoft has already been running trials of the program in Brazil for over a year and will be expanding to other selected, markets like India, Russia, China and Mexico.
We half expected the trials to be using bottom end, cheap'n'cheerful computers, but it seems that punters were able to use high-quality, mid-range Lenovo desktop PCs.
"Lenovo's joint effort with Microsoft using FlexGo pay-as-you-go computing will bring high-quality PCs within the reach of millions of families for use in education, communications and entertainment", continued Microsoft's Poole.
It's a cunning business plan too: in the Brazilian trial, consumers were able to buy pay FlexGo PCs for around $300 (about half the market price), but would typically end up owning the PC after spending roughly $400 to $500 more on access charges – making the total cost around $700 to $800.