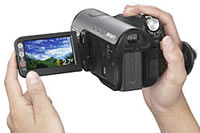 The HC3 has a tough act to follow – its own big brother, the HC1. Last year's HC1 brought High Definition recording within the budget of almost any home movie-maker for the first time, and did it with assurance and style. Luckily, Sony hasn't rested on its laurels, and the HC3 feels very much like a replacement for the HC1 rather than a mere upgrade.
For a start, the HC3 is 30% smaller and lighter than its predecessor, giving it the size and heft of a traditional MiniDV palmcorder. It shares the 2.7-inch touchscreen of the SR90, as well as a generous 123,000-pixel wide viewfinder if you need to save power. Like the HC1, it records 1080i High Def footage onto MiniDV tapes in the HDV format, although the HC3 has a brand new 1/3-inch 2MP CMOS sensor that Sony suggests will match the 3MP chip in the HC1. We didn't have the opportunity to see full quality footage from the HC3 on a HD display.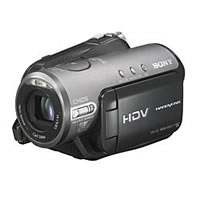 Changes to the imaging pipeline have enabled Sony to offer a couple of new features in the HC3. The first is the ability to capture up to three 2MP still photos while filming (the images buffer until you stop recording). The second is Smooth Slow capture, where the capture rate increases from 50 to 200 fields per second for three seconds. Audio recording and the Super SteadyShot audio are disabled while you shoot. You can then play back this footage at a normal frame rate, giving 12 seconds of smooth slow motion footage.
The HC3 has an HDMI output (no cable supplied) and should manage around 105 minutes of recording using the supplied battery. Like the SR90, the HC3 has a flash unit rather than a video light, but a hot-shoe for accessories. But some of the HC1's more advanced features are missing: manual shutter speeds, zoom ring and external microphone input among them.
The HC3 seems to be a worthy successor to the HC1: smaller, lighter and cheaper (£1,000). Our only concerns would be that the reduction in size of the CMOS sensor has affected image quality and that Sony is dumbing down its High Def offering for a mass audience. Despite these worries, the HC3 will almost certainly spearhead the assault of HD into the mainstream and that can be no bad thing.