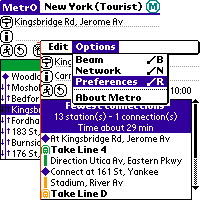 For globe trotters, city slickers, urban commuters and spoddy transport types, the freeware Metro looks to be a very useful application.
Available on a host of mobile platforms from PalmOS to Symbian to Pocket PC, Métro is a predominantly text-based program that computes the shortest route between two subway stations.
The program's looks may be basic, but you can't knock its coverage, with guides for over 300 cities around the world – including Dublin, Las Vegas, London, Tokyo and even 'umble Croydon.
Impressively, the program is available in 39 languages.
The guides come with differing levels of detail, with some offering both bus and subway routes, places of interest and a 'tourist version' offering extra info and directions to local sights.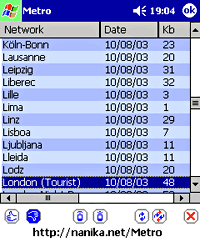 Using Metro
Using the program is simplicity itself: just select the city and time you want to travel, select the 'start' and 'end' points of your journey.
This can be done by either inputting the names yourself (Metro will offer to auto-complete as you type) or by selecting the stations from a list.
Then it's a case of bashing the 'start' button to get Metro to automatically suggest two different routes (fastest and least connections), with the option to instantly compare alternative routes by clicking on other stations and lines.
Possibly of particular use in France, there's also a 'Line deactivation' option letting you navigate routes around sections of the subway that might be closed for strikes (or maintenance).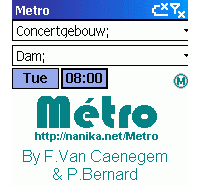 Using the program's simple interface, you can also get Metro to display station details, stops between the stations on your journey and even associate contacts with stations.
The program is certainly comprehensive, offering 721 stops in London, 939 in New-York, 1813 in Tokyo and 838 in Paris, and a handy MétrUp updater makes it easy to keep city files up to date on your handheld.
i-Metro
Describing itself as 'the ultimate public transport guide on your WAP or iMode phone', i-Metro comes in Web, iMode and WAP versions for accessing route information on the move.
We couldn't get any joy out of the WAP version (but we were using our wobbly old Ericsson T610), but the Web version worked just fine and we were able to quickly access London night bus info. Neat!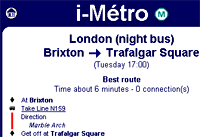 Conclusion
It may not be the most attractive travel program around, but for a freeware product the attention to detail and scope of coverage is simply astonishing.
Such is the reliability of the program that mobile moguls like Sony Ericsson, Palm and T-Mobile are bundling Metro in with their products, and even SNCF (the French national railway company) have given it their seal of approval.
For commuters, tourists and travellers we thoroughly recommend Metro.
Features: 85%
Ease of use: 85%
Value For Money: 95% (it's free Godammit!)
Overall: 95%