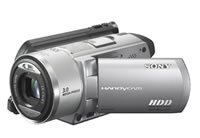 Just when you thought Sony couldn't add any more formats to its camcorder range (the electronics giant already carries MiniDV, MicroMV, Hi8, Digital 8 and DVD models), along comes a new hard disc camcorder (the DCR-SR90) and a re-vamped Hi Def pro-sumer shooter (HDR-HC3). We caught up with both at an exclusive hands- on presentation in London. Details of the Sony HDR-HC3 will follow tomorrow.
Sony DCR-SR90
The SR90 is going head-to-head with JVC's well-established Everio range of hard disc camcorders, with which it shares many things in common. A 30Gb disc can store around seven hours of top quality MPEG-2 footage, although not, as yet, in High Defintion. The Sony's 9Mbps maximum bit-rate just pips JVC's 8.5Mbps, although we wouldn't expect that to affect video quality noticeably. Both have hard drive drop protection and traditional palmcorder designs, although the SR90 is heavier and chunkier than JVC's Everios – and even many of Sony's MiniDV models.
Build quality is good, and is reflected in a specification that includes a Carl Zeiss T* 10x zoom, which zips between extremes silently and quickly, and a 3.3 megapixel CCD sensor (against the Everio's 2MP chip). Although it's a pity Sony opted for a photo flash rather than a video LED, there is at least a hot-shoe for adding a decent external light.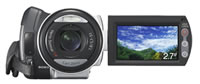 The interface is generally very good, with a 2.7-inch folding touchscreen ported straight from Sony's MiniDV range, giving access to a good range of creative features, including true 16:9 recording.
Sony has also borrowed from its DVD camcorders, nicking a built-in microphone that encodes audio in Dolby Digital 5.1 surround sound (although we didn't get a chance to test this properly). Super SteadyShot is one of the industry's better digital image stabilisers, and there are some digital effects on offer, too.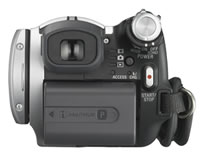 Playback features include basic editing tools that let you move scenes around but not cut or join them. Ease of use is emphasized with a One Touch DVD burn button for Windows computers with a DVD writer – just plug in via USB, slip in a disc and away you go.
Utilising the strengths of its traditional camcorders has helped Sony avoid the SR90 feeling like a 'me too' product. It might be priced a little higher (£850) than similar Everios but it offers a little more, too – if not yet the High Def recording that would have made it a must-have. A solid hard drive debut then, and it's great to finally have some competition for JVC.