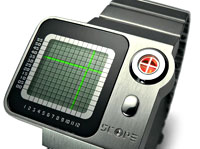 Without doubt quite the silliest timepiece we've seen for a long time, this new watch by Japanese manufacturers Scompe manages to turn the mundane task of checking the time into some sort of sci-fi adventure.
Offering no hands, dials or any kind of alpha-numeric LCD/LED readout, the makers clearly thought that such tried and trusted (and efficient) methods of displaying the time were simply too uncool for cutting edge hipsters.
Instead, the Scope watch employs a bonkers 'scanning' system, activated by pressing a button on the fascia which animates two onscreen green lines – one vertical, the other horizontal.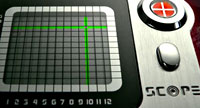 Managing to complicate the simple task of reading the time, users must read off the vertical line for the hour and the horizontal line for the minutes, checking their values against the tiny onscreen numbers.
Minutes inbetween are displayed in a circular display to the right, which is made up of four LEDs (so 20mins + 2 LEDs = 22 minutes.)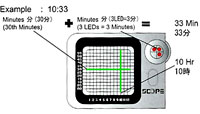 Powered by 2 lithium cells, the SCOPE watch is quite a chunky beast, measuring 45mm x 33mm x 11mm.
The watch – available in Brushed Silver or Gun Metal – comes with a one year warranty and a stainless steel strap and sells for around 14900 Yen ($130, £75).