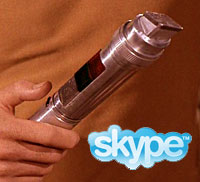 Skype's new Language Line Personal Interpreter service claims to make it easy to "talk instantly to anyone, anytime, anywhere in the world, regardless of language."
Sadly nowhere near as cool as Star Trek's Universal Translator, Skype's new offering uses human translators who can collectively offer on-the-fly translation services for more than 150 languages.
The service comes courtesy of a partnership with Language Line Personal Interpreter Services and promises to make it easier for businesses and individuals to babble in tongues to each other over VoIP for just $2.99 per minute.
Subscribers to the service can take part in online conferences with up to five other Skype users with a live Language Line Services interpreter doing all the translation stuff.
The new service, which uses Voxeo's Prophecy voice platform to automate the process of transferring the call from Skype to Language Line Services, will be available around the clock, with costs being automatically charged to the caller's SkypeOut account.
Saul Klein, vice president of marketing at Skype, whipped up the PR froth: "Language Line's Personal Interpreter Service greatly enhances the Skype experience for our growing multilingual customer base.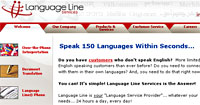 "Our consumers can now use the Skype technology to easily communicate in the languages their customers and friends prefer to speak," he added.
In the multinational corporate world, there's certainly big bucks to be earned from translation services, as Louis Provenzano, senior VP, sales and marketing, Language Line Services, noted:
"Every day, virtually all Fortune 500 multinational corporations, and businesses of all sizes around the world, depend on Language Line Services to assist them in communicating with their customers in their own languages."