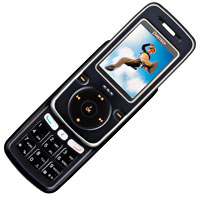 Straight out of the school of Advanced Homage to iPods comes this new music phone from South Korean phone maker Pantech.
Featuring a (ahem) "revolutionary touch-wheel sensor," the phone is aimed at "digital generation" music fans, with 512 Mb internal memory capacity supported by an external card slot for maximum onboard tunes.
Arriving on the shelves of Hong Kong and Taiwan stores today, the phone features a slide-out keypad design, a 1.9in, 262,144-colour display and the not-at-all-like-the-iPod clickwheel, which "enables easy navigation by allowing users to sweep the wheel key with their fingers", according to Pantech.
As well as operating the music controls, the circular control can be used to control menu bars, zoom in on images taken with the phone's built-in 1.3-megapixel camera and to skip through MPEG 4 videos recorded on the Pantech.
Uniquely, there's some basic video editing software on board for users to create Fellini-like mini epics on their phones.
S. Jay Yim, Vice President, Overseas Marketing, Pantech, was suitably enthusiastic: "The PG-3600V not only offers a unique design with its finely honed, attractive finish, but it also highlights our efforts to offer the latest, most user-friendly applications to young tech-savvy users. We feel the PG-3600V actively supports the desire prevalent amongst many people to stand apart from the crowd."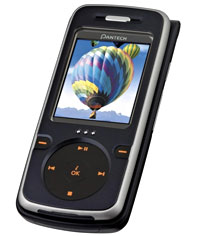 Rounding off the phone's feature set is stereo audio-enabled Bluetooth and a speakerphone in the 10.2 x 4.7 x 1.8cm package which weighs in at 94.1g.
Needless to say, there's no UK/European release date set yet.
Specs:
Touch wheel sensor
1.3 mega pixel CMOS camera
Display: 1.9″ QCIF, 260 K color TFT LCD
MPEG-4 recording/editing function
Music player (MP3/ AAC/AAC+/WMA)
Speakerphone
Stereo Bluetooth
SMS/MMS/e-mail