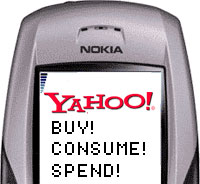 Yahoo have released a report with communications company OMD today that looks into how the Internet influences peoples shopping habits. Not surprisingly it covers online purchases, but far more interesting is how people are using the Internet and other technology to inform their 'real-world' purchases.
They describe it as follthows
The Internet offers a collaborative environment where consumers turn for advice and the experience of others in weighing brands, discovering alternatives and distilling prices, as they weigh their purchase decisions
We think what they mean to say is people have a look around online and read stuff, helping them to make up their minds.
They found three things that are looked up online before people cough up the cash
Trusted information. Consumers say the Internet is the most trusted shopping information source (54 percent), followed by magazines (34 percent) and TV (23 percent). Seventy-four percent of people use trusted, familiar Web sites when purchasing online, and 55 percent opt-in for e-mail marketing messages from companies they trust.

Choices. On average, consumers consider three brands before making a purchasing decision. Many "comparison shop" using the Internet, but 38 percent of consumers still want to be able to see and touch products before they buy. The Internet helps narrow down options before they purchase either online or offline. In addition, 61 percent agree that Internet search engines are one of their favourite tools for finding product information.
Price. The research shows that 61 percent of people consider themselves to be serious bargain shoppers. The Internet is changing the concept of fixed pricing by enabling consumers to search for the same product at myriad prices, as well as actively monitoring a product for price discounts or finding coupons and rebate offers.
Other tools in the consumers tech-arsenal
Interestingly they've found that camera phones and text messages are powerful tools in the consumers tech-arsenal. Shoppers are now text messaging each other, sending pictures of merchandise and using Internet-enabled phones to compare prices, all from the point of sale (shop to you).
One of the 'old fashioned' methods that we've often used, is to call up a mate who you know will be in front of a Browser and 'speak to them', asking if they can check something online for you while you wait. Perhaps they didn't mention it because it wasn't hi-tech enough.
They also found that this has 'given consumers a new kind of "social empowerment"' Oh, but of course.
Internet now first point of reference
The surprising shift is towards the Internet being the first point of reference to find out stuff. Surprising because it's above friends and family which were always the golden choice. Less surprising is that offline reviews and traditional media sources are losing out, perhaps because people generally don't even believe the news that they print.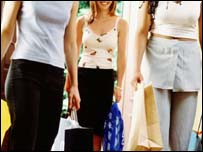 Having come from a communications agency, this report, "Long and Winding Road: The Route to the Cash Register", won't surprise you in using all sorts of language in a way that hasn't ever been seen in English before. They'll also grab hold of words that you have heard before and use them to create comfortable categories. Oh and tell you things that really are patently obvious but wrap them up in a different way ….
Consumers Travel Four Distinct Paths

The findings from the Long and Winding Road research can help advertisers connect with consumers online at crucial stages of the decision-making process. The study uncovers four distinct paths that consumers take on their way towards making a purchase:

QUICK: This path involves little consideration. Consumer packaged goods are often quick paths.
WINDING: Comparison shopping between different channels, including online and offline retailers, typifies this path. Retail goods are often winding paths.
LONG: This path involves researching various options over an extended period of time. Technology purchases are often long paths, particularly if the price tag is high.
LONG AND WINDING: This path requires investing a considerable amount of time researching across several channels. Many big ticket items — including automobiles and financial services — follow a long and winding path. These paths offer marketeers the most opportunity to impact and possibly sway a purchase decision in their favour, because consumers of these products are the hungriest for information.
That's funny
We found it pretty funny that a 'worldwide media communications specialist' that OMD proclaim themselves to be, is the third search result for omd on Google, behind '80s UK pop phenomenon Orchestral Manoeuvres in the Dark (OMD) and the On-line Medical Dictionary.