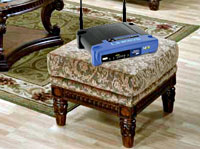 The space-age wireless house is coming ever-nearer with new figures from Strategy Analytics revealing the growth of Wi-Fi networks amongst the sofas, dining tables and four poster beds of the home.
The study found that a fifth of broadband subscribers in the US and Europe-land now use Wi-Fi to share Internet connections between their PCs, laptops and other wireless devices – adding up to a total of 19 million connected homes.
When it comes to wireless connectivity in the home, 7 percent of all households are now buzzing with wireless networks.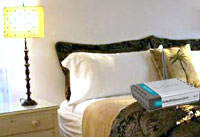 The Americans were found to be leading the world with 8.4 percent penetration, followed by the nippy Nordic region with 7.9 percent.
As we reported back in January, Brits have been slow to embrace Wi-Fi, and this latest survey found that wireless usage in the UK still lags below average at just 6.1 per cent.
Surprisingly, Germany was found to be even less enthusiastic about having a box of blinking lights in the house, with just 5.1 per cent penetration.
Mind you, seeing as the survey only asked 2,000 home Internet users in the US, France, Germany, UK, Denmark, Finland, Norway and Sweden we'd recommend taking all these figures with a large slab o'salt.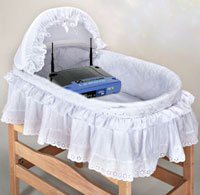 "Rich people have more electronic gadgets" shocker!
To the surprise of, well, no-one with half a brain, Strategy Analytics' study also found that consumers in the highest income groups were three times more likely to use WiFi than those in the least affluent income band. Well, I never.
Early adopters love Wi-Fi
"WiFi has become the preferred networking technology for affluent early adopters," commented David Mercer, Principal Analyst at Strategy Analytics, as he sagely puffed on an over-sized pipe.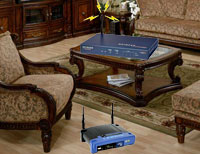 Mercer added that rising ownership of laptop PCs and other portable Internet devices will soon make Wi-Fi the dominant home networking choice for most broadband subscribers.
Actually, we made that bit up about the pipe.