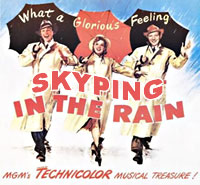 Uber music giants EMI Music Publishing have announced a deal with hotshot VoIP upstarts Skype to sell music on Skype's new retail website.
Skype's new international digital music service will make tunes from EMI's hefty catalogue legally available on a worldwide basis.
When it comes to songs, EMI – the world's largest music publisher – has tons of the puppies (we're talking over a million copyrights), including drunken karaoke favourites like 'New York, New York', 'Singing in the Rain' and 'Over the Rainbow.'
The deal includes downloads, ringtones and subscriptions, with EMI Music Publishing being employed as a music consultant for the new service.
The deal is significant as it's the first major online music deal to be agreed on a global basis – previously, music retailers had to laboriously license songs individually on a country-by-country basis.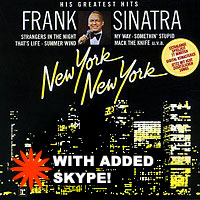 Roger Faxon co-CEO of EMI Music Publishing was ready and willing for some Monday morning gushing, dishing out the kudos to Skype, EMI and composer royalty collectors the MCPS-PRS Alliance for their help.
"We could not have better partners than Skype and MCPS-PRS in our ongoing effort to break down the barriers of online licensing of music. EMI is committed to bringing the best music in the world to all the consumers of the world and this deal is a major step in fulfilling that goal," he gushed.
Skype is yet to set a launch date for its new online store.