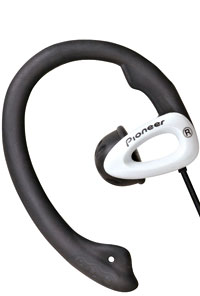 If, like the Temptations, you find yourself wishing it would rain or you just like to belt out tunes in the shower, Pioneer's new waterproof headphones might be just the things for you.
The phones individually clip over each lug'ole and have what looks like a rubberised band to ensure that they stay firmly clamped on your nut as you rock out to the Waterboys in your shower.
We couldn't find any information about how waterproof these things are, so we're not sure if scuba divers will be able to hum along to Wet Wet Wet while swimming around in an octopus's garden or if they're only good for singing in the rain.
Of course, beach boys on a surfin' safari might appreciate the waterproofing as could sunbathers on a rockaway beach.
Coming in a choice of white or silver finishes, the units seem to be solidly constructed and reasonably spec'd, providing 100dB/1mW sound pressure and a frequency range of 20Hz to 20kHz.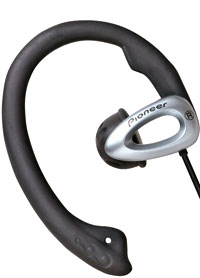 Of course, there's no point having waterproof headphones if your player gets slippery when wet, so anyone looking to go surfin' USA might be interested in checking out the range of waterproof iPod/iriver cases from h2o Audio.
Their gear isn't cheap, but if you like to hear music while you're out in rain (purple, or otherwise), jumping in the sea or blowing bubbles in the bath, it may be worth splashing out (ouch!) for the solid protection.
As for availability, we're sorry to say we've no idea when or if the Pioneer headphones will be released over here in little ol' Brit-land.