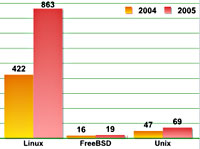 Attacks against non-Windows operating systems – particularly Linux – are growing quickly, according to a Kaspersky Lab report.
Although the figures are infinitesimally small compared to the depressingly regular onslaught of nasty beasties targeting Windows users, Linux malware figures more than doubled in 2005 (up to 863 from the previous year's 422).
The report, posted by Konstantin Sapronov on the Viruslist.com Website, also noted that other Unix-based systems were experiencing similar rises in attacks.
The increase in malware is seen as a result of the growing popularity of alternative platforms.
"Slowly but surely Linux is being chosen over Windows not only for servers, but also for desktops," explained Sapronov.
"Mac OS X's (stock) may also rise. Since Apple has switched to Intel processors, Macintosh is rapidly gaining popularity," he added.
The report notes that with Apple's OS X kernel being based on FreeBSD, the experience of creating malware for that platform may also be applied to create OS X malware in the future.
The author points to the two "proof of concept worms for OS X" (below) as evidence for errors in the system architecture, adding that "OS X may be fertile soil for security researchers."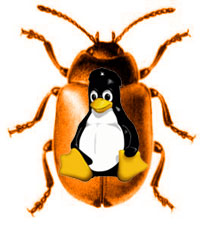 Those Mac bugs
Posted up late last week by independent researcher Tom Ferris, 'proof of concept' code has been revealed that could be used to crash applications or even run unauthorised code on Apple machines.
The code takes advantage of bugs in the Safari browser and the Mac OS X operating system, with Ferris highlighting exploiting a total of seven bugs.
Posting on his Security-protocols.com blog, Ferris said that Apple had been made aware of the bugs and plans to fix them in "the next security release."
Writing in his blog, Ferris commented, "There [seem] to be some problems with the claimed solid-as-a-rock Unix OS Getting Safari to crash in many different spots is trivial, as where Firefox is very tough."
The SANS Institute's Internet Storm Center rated the severity of Ferris's bugs as "highly critical," warning that there are currently no patches or workarounds available for the majority of these vulnerabilities.
Apple had declined to comment as we went to press.