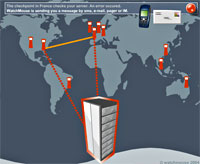 In the world of online commerce, uptime is money, so it was surprising to see a new report by WatchMouse showing that 57% of the FTSE 100 websites were offering availability below industry standards
The research shows that many top company's sites are badly accessible or unavailable for more than an hour per month.
The bottom ranked site – United Utilities – was so bad that it was found to be unavailable for the equivalent of more than 5 days per month!
The WatchMouse Site Availability Index for the FTSE 100 monitored the sites continuously between March 2 and April 10, 2006, with the software trying to access homepages every five minutes.
The pages were expected to download within 8 seconds and without any errors.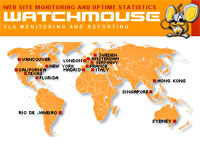 With an uptime of 99.9% seen as the industry standard (minimum acceptable level), there were fourteen sites which achieved perfect 100% availability, while the worst two performers couldn't even muster 91% availability (Scottish Power with 90.78% and United Utilities with a lamentable 81.53%).
Mark Pors, chief technology officer at WatchMouse, expressed surprise at the results, commenting, "With several sites, we found an uptime that was worse than that of many smaller companies. This is worrying as the FTSE companies in particular should give a great deal of priority to their corporate image"
Pors opined that maximum uptime should be judged as part of the overall 'brand performance,' adding that, "Some of the sites belonging to FTSE 100 will get a lot of traffic. However, this is no excuse; if we look at large online brokers in the US, for example, all achieve an uptime in excess of 99.9%."
A complete listing of the 100 monitored sites can be found on the WatchMouse Site Availability Index