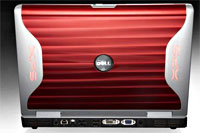 Dell has released a beast of a notebook, with its dual-core processor, groovy glowing lights and ramped-up video RAM aiming the XPS M1710 squarely at mobile gamers.
Billed as Dell's fastest notebook for the consumer market, the 8.75 pound XPS M1710 ships with a magnesium-alloy reinforced RoadReady chassis, TrueLife 17″ UXGA display (1920×1200 pixels), 5-in-1 card reader and an optional TV tuner.
Available in black and red flavours, the Special Edition Formula Red model comes with a hefty size premium, offering a faster processor and a frame-rate flying 512MB of graphics memory.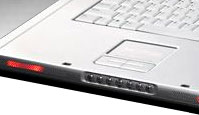 The Metallic Black M1710 weighs in at a wallet-draining $2,600 and comes with Intel's Core Duo T2400 processor, 1GB of DDR2 memory, 256MB GeForce Go 7900 GS graphics and a 60GB hard drive.
The top of the range Formula Red model – available in the U.S. and Canada only – offers an Intel Core Duo T2500 processor, 512MB GeForce Go 7900 GTX with an 80GB hard drive from $3,400 (with extras this price can soar up to $4400.)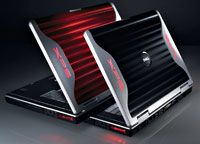 Both notebooks feature Microsoft's Windows Media Center Edition operating system, and system upgrades can expand storage to 120 of GB hard drive space and up to 4 GB of 667MHz DDR2 memory.
When it comes to pretty lights, the Dell comes with full Christmas tree-on-acid appeal, offering a red backlit touchpad and three user-controllable lighting areas with a choice of 16 colours.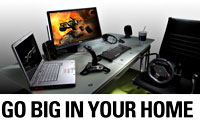 There's also built in Wi-Fi, high definition integrated stereo with two 2 watt per channel main speakers and a 5 watt, class D subwoofer with bass reflex port.
With a backbreaking 8.13lb / 4000g carrying weight, this clearly isn't a laptop designed for carting into the office every day, but affluent gamers looking for a ton of graphics power – and some pretty glowing lights, natch -might find the Dell right up their boulevard.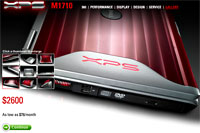 The XPS M1710 is estimated to ship in the second week of May. EK/EU delivery and prices to be announced.