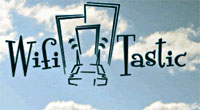 A clever new scheme from WifiTastic makes it pie-easy for home broadband users to turn their connections into revenue-generating wireless hotspots.
To get hooked up, users must purchase a pre-configured Linksys router from WifiTastic – or downloaded and install a free firmware update, if they're already using a Linksys box.
Here's how it works: WifiTastic send you their router, you slap it into your internet connection, and as soon as it's up and running you're the proud owner of a commercial Wi-Fi hotspot.
Any neighbours, customers or passing Pringle tin-toting Wi-Fi-nauts finding the network will be sent to an access page where they can sign up for wireless access by the hour, day or month.
The company provides a suggested pricing model, but users can set their own prices, with WifiTastic handling all the fiddly credit card/billing/payment stuff and returning 60% of the proceeds to the hotspot owner.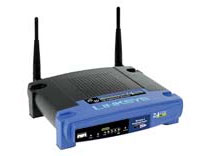 Although free shared connections tend to appeal to our right on ideals more, there's no denying that this smart, simple system looks to benefit both owners and those who need Wi-Fi access and are prepared to pay for it. Other companies like the heavily-invested FON are providing similar services.
For owners of cafés, small hotels etc the ease-of-use and zero administration involved might make it a tempting proposition, and people living in high density residential areas may appreciate the ease of the service – so long as the access rates are kept reasonably low, of course.
Prospective users would also have to check that their provider allows them to share their connection too.