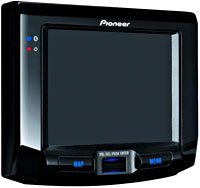 Pioneer have announced their new AVIC-S1 pocket GPS system for the European market.
Through the magic of science (and possibly a smattering of pixie dust), the 180g unit manages to wedge in a mighty 7 million kilometres of European roads into its 2GB of flash memory storage, with Pioneer stuffing in Bluetooth phone integration and additional 'Points of Interest' data for fact-seeking travellers.
Inside the shiny black casing there's a high-performance SiRF Star III GPS receiver taking care of GPS signal reception with an SD slot for map expansion, and the ability to hook the unit up to your PC via the USB port for GPS updates.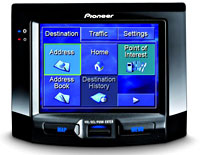 Built in microphone
The Bluetooth AVIC-S1 can double as hands free kit in the car – once a compatible phone is paired with the device, the motorist can leave the phone in their bag and chat away into the AVIC-S1's built-in microphone.
Niftily, the device also supports direct dialling of numbers from its touch-screen (with call history) and can share the phonebook stored on the user's mobile phone.
There's also an optional RDS TMC traffic information receiver available for the AVIC-S1 which identifies problems lurking ahead and advises on new routes to avoid them.
Offering up to four hours of battery operation, the AVIC-S1 comes with a sturdy suction-mounted foot, with the unit easily detached for the walking bit at the end of a journey.
The AVIC-S1 is expected to navigate its way on to the shelves of European retailers in June 2006 – oricing to be announced.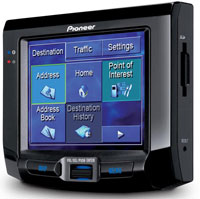 AVIC-S1 specs
Simultaneous Navigation and AV Entertainment Yes
Navigation Coverage 26 Countries
Map Type Pre-installed on Flash memory
Touch Panel Operation Yes
Color TFT Display 3.5″
Bluetooth for handsfree Yes
TMC Traffic Info Receiver Optional
Installation Type Pocket Size, Portable with 'Suction Mount'
Navigation Features AVIC-S1
Voice Guidance Languages 17 Languages Support: UK English, French, Spanish, German, Italian, Dutch, Flemish, Swedish, Danish, Norwegian, Portuguese, Turkish, Finnish, Czech, Polish, Hungarian, Greek
Menu Languages 16 Languages Support: UK English, French, Spanish, German, Italian, Dutch, Flemish, Swedish, Danish, Norwegian, Portuguese, Turkish, Finnish, Czech, Polish, Hungarian
Bluetooth Features
Hands Free Calling (Hands Free Profile) Yes
Phone Book Transfer (Object Push Profile) Yes
List Display (Phonebook/ Call Log/Preset Dial) Yes
10-Key Direct Number Dialing Yes