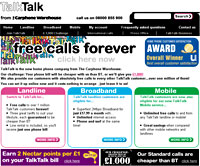 Carphone Warehouse are going to stir up a hornet's nest in the telecoms industry if they go ahead with rumoured plans to introduce a free broadband package in the UK.
According to the Sunday Times, the company is expected to offer the public "free" broadband as part of their Talk Talk landline package.
Backed by a huge advertising budget, the promotion is seen as part of Carphone Warehouse's strategy to elevate their Talk Talk brand into the leading consumer alternative to BT Group.
Carphone Warehouse's current tally of 75,000 broadband customers puts them miles behind big boys BT Retail and NTL, who boast a mighty 2.3m and 2.8m customers respectively.
Not us, Guv.
At the moment, the company are denying everything about the new free service, although an announcement is expected on Tuesday.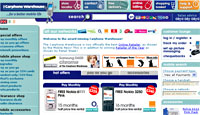 Some industry experts believe that Carphone Warehouse are looking to repeat the soaraway success of fabled freebie ISP Freeserve, who came out of nowhere to overtake BT in the late 90s.
Up until now, Carphone Warehouse have been hampered by having to resell BT's wholesale broadband product, but a hefty £60m investment will see the company having its own broadband gear in up to 1,000 BT exchanges – potentially reaching 70% of the population.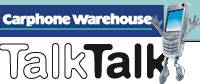 PR spin-mesisters at Carphone are thought to have christened their broadband campaign "Independence Day", based on a feeble pun that it will give customers independence from BT.
Some are suggesting that the tag has greater significance, insisting that it reflects the proposed launch date for the new broadband deals – July 4, America's Independence Day.