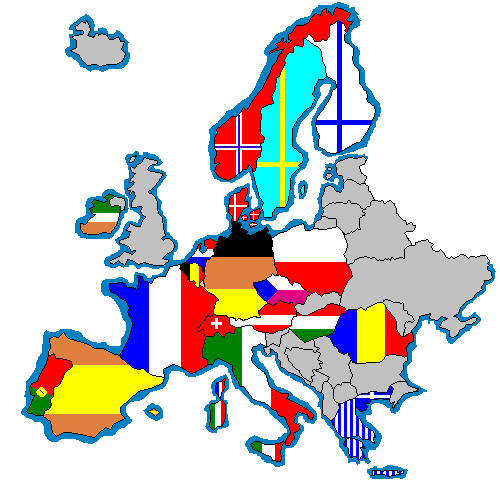 It is being reported that MySpace-owner, News International, is looking to expand its presence in Europe with its focus being London.
MediaBulletin claims MySpace are opening offices in London, while expanding their connections into the entertainment businesses in the UK capital. They hope to grow the number of UK users beyond the estimated 2m that currently use it.
MySpace considered
Why has it been such a popular thing?
It's a clever, cut down version of what anyone can do on the Web for themselves using separate software tools and service, but it offers the tools in one place. The unkind are calling it GeoCities 2.0, which isn't too far from the truth.

Importantly it also has social/network effects built it. This works both for the creators, as they grow their links to their friends – real and imagined; but importantly for MySpace's income, the network effect for browsers is huge. As a browser looks at the original site, they split off in a myriad of different directions as they distract themselves, exploring the music taste and hobbies of linked friends.
Looking around it is addictive, and engrossing, but it's ultimately an unrewarding empty experience.
Getting to here
The way MySpace has ended up has been very fortuitous. Whether this is intentional or if it's due to a number of happy coincidences is unclear.
MySpace originally was swamped by children and teenagers when it started two years ago – possibly attracted by its relative safety and that their mates were on it.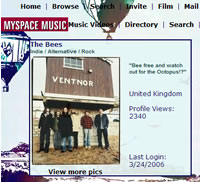 It's expanded beyond this now and has now reached the point where record companies feel bands _must_ have their own presence on MySpace, even if they've got their own Web presence – witness sons of Ventnor, The Bees.
The hard-nosed commercial reality is that bands would be foolish not to be on MySpace. With 35m active users is claimed, the potential audience is too huge to ignore.
Here comes the competition
Other companies are well aware of the value of shared spaces like this – their attention focused by the $580m the News International paid for MySpace. This was highlighted by Microsoft spending a fair bit of cash at SXSW try to get the music companies interested in being on MSN Spaces – their looky-likey offering.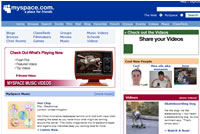 With the media footprint that News International has, it's highly likely that they're going to be able to make best value from what appears to be a considerable purchase price. Already there's been reports their UK tabloid, The Sun, is to being brought onto MySpace using MySun.
With the backing of Murdoch, MySpace _will_ become more of people lives than it is now, and they've reached such a point of saturation that the likelihood of them being displaced is low, at least in the short term. If reports of expansion are correct, UK and European residents can expect to be hearing a lot more about MySpace.