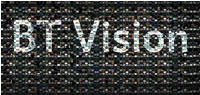 You'll probably remember that we broke the story back in September about the release date of BT's then unnamed IPTV plus Freeview service. Today we learn that it's to be called BT Vision – and that it's release may have slipped slightly, from the 'late summer 2006' quoted by Andrew Burke to Autumn.
As we know … all new services like to claim a level of uniqueness, BT have latched on to it being the "world-first, combining access to digital-terrestrial channels through the aerial with broadband-powered video on demand" – translated? It's got a Freeview tuner built in.

BT's also confirming that the box that will do all of these things is to be call the BT Hub. Its will use a software platform powered by Microsoft and that the set-top box is to be made by Philips.
Those interested in the service also have a chance to register at the BT Vision site.
BTW – Straw poll around the office. They'd better turn out some better content on BT Vision than that horrible Flash vision that accompanies the site. Argh – not exactly inspiring.