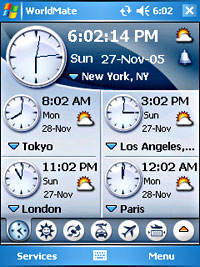 WorldMate 2006 Professional Edition v4.1
It's painfully expensive at $75 (~£42, ~e61) per annum, but WorldMate could prove a wise investment for high fallutin', globe-trotting business professionals who regularly zip around the planet.
Housed in an attractive interface, WorldMate 2006 provides a valuable suite of tools for hardcore travellers including weather, exchange rate and flight information.
The program offers comprehensive flight schedules for over 800 airlines, with daily and weekly schedules provided for any selected route, supported by a "dynamic connection engine" which provides the 50 fastest connections to inputted destinations.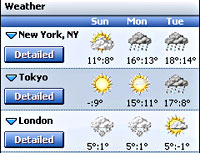 Travellers can get real-time information about their flights – including the inevitable delays, gate and terminal information – with global forecasts letting them know whether to pack the Goretex or the suntan lotion.
American users can view animated Weather Satellite radar and precipitation maps, with detailed 5-day forecasts provided for over 38,000 locations worldwide.
Also bundled in the program are world clocks, currency, size and measurement converters and utilities to calculate local tax and tipping customs as well as a handy list of global dialling codes.
WorldMate Standard Edition v.5.1
For mere mortals who don't spend their entire lives swanning around the globe, the WorldMate Standard Edition v.5.1 offers a cut-down feature set at a suitably modest $35 (~£19, ~e29).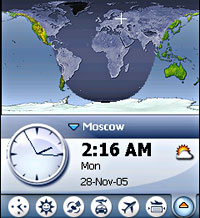 Essentially the same program minus the live flight and subscription services, this is an essential Pocket PC installation even for occasional travellers, with the updating weather and currency converters almost worth the price alone.
If we had some criticisms (and this applies to both versions), it would be that the map's large scale makes it really difficult to accurately locate a city by clicking onscreen.
Some city information might have been a nice touch too, as would a means of calculating the distance between waypoints and destinations.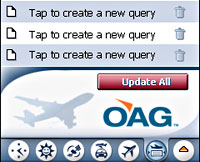 These minor quibbles aside, both programs offer a compelling suite of utilities for travel and come highly recommended for perambulating Pocket PC users.
Versions of the program are also available (at differing prices) for a host of platforms including Palm, Blackberry, Windows Mobile Smartphone, Series 80 and Series 60.
We hope to have a full review of the Palm version shortly.