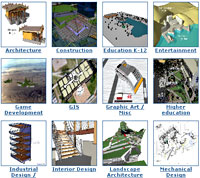 Several forests are having to be torn down to supply Google with enough chequebooks to keep up with their current spending spree.
Barely has the ink dried on the Writely deal earlier this week than the big spenders at Google whipped out their heaving wallet and scooped up @LastSoftware, the company who make the 3D SketchUp software.
The high-end program is used by architects, game players and other 3D bods and has a plug-in designed to allow developers to export 3D models into Google Earth.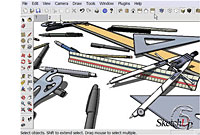 Bought for an undisclosed sum, a statement on @LastSoftware's site details how they fluttered eyes at each other a wireframe table: "We got to know a bunch of Googlers while we were building the Google Earth plug-in for SketchUp, and it quickly became apparent that we could really stir things up together."
Brad Schell, co-founder of the 7-year-old company, said it would continue to develop and sell SketchUp, which retails for a pricey $495 (~£283, ~e411).

"Google's resources will allow us to serve our current users better, and Google's reach will allow us to expose more people to SketchUp in one year than we could have touched in 10 years on our own," he commented in a budsy message to customers.
Clearly getting excited, Schell whooped, "'3D for Everyone' is becoming a reality; we're bringing the '3D' part; Google's contributing the 'Everyone.'"
Google's move into 3D mapping software looks to be part of a strategy to spruce up their mapping and direction service, as an entry in the @Last blog explains: "We do not have any announced plans regarding the integration of this technology with current Google products and services, but we can say that we're tired of all those grey boxes in Google Earth."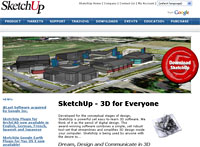 The combination of SketchUp's 3-Dimension models overlaid on Google Earth's maps could serve up a competition busting offering, with the added detail offering real value to GPS users.
@Last have said that they won't be shifting from their current headquarters in Boulder, Colorado or moving their Munich and London offices, although the company's name would change to Google while SketchUp will retain its name.