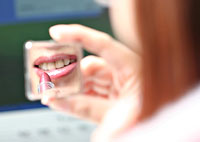 You know the problem: you've rushed into work late, sat yourself down at the desk only to realise that there's not enough USB ports on the machine so you can't plug in your DVD backup.
And – even worse – there's not a mirror around so you can't check if the chocolate topping from the cappuccino you hastily slurped down on the train into work is smeared all over your face.
And the boss is coming in at any minute!
Well, thank goodness for the thoughtful folks at Brando, who have designed just the thing for you – a combination USB hub and vanity mirror!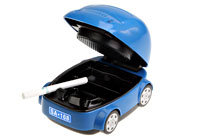 The 'Mini Mirror Hub', described as "the most tiny, fashionable USB 2.0 HUB," can connect up to four USB 2.0 (or USB 1.1) devices, supporting 480Mbps, 12Mbps and 1.5Mbps speeds.
Powered by the host USB computer (or via an optional adapter), the teensy-weensy hub measures just 40 x 40 x 10 mm, which makes it of rather limited use as a vanity mirror – although we could imagine some city types finding an, err, somewhat alternative use for its shiny surface.
The Mini Mirror Hub is available from here for $14 (~£8, ~e12).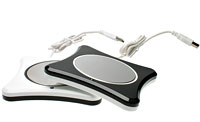 USB Ashtray
If your company has a no-smoking policy and you're desperate for a sneaky drag at your desk, once again the diligent designers at Brando have just the gadget for you.
Their USB Ashtray – inexplicably shaped as a little blue car – promises to, "minimise smoke and odours" by passing the smoke through a carbon-absorbing filter – and it's yours for just $22 (~£13, ~e18) – details here.
USB Cafe Pad
With the winter snap still carrying on, there's always the chance that your coffee may go cold just a little too quickly for your liking, so once again we are grateful for Brando's engineers for dreaming up the USB Cafe Pad.
Simply plug it into your USB port, switch it on and slap your beverage of choice on top for permanently hot drinks – for just $15 (~£9, ~e13)!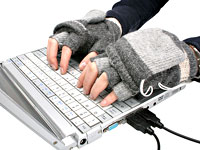 USB Heating Gloves
Finally, we found ourselves unable to resist mentioning Brando's USB Heating Gloves.
"Ever experience that your hand freezing and slowing down your reaction when you are playing game?", asks their Website.
Well, we can't say we ever have, but we can sleep easy in the knowledge that should we ever suffer any heat-related problems when 'playing game', we could shell out $22 and slip on their natty heating gloves.
More details here: USB Heating Gloves.