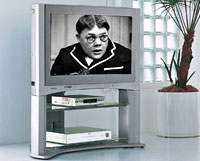 It looks like the days of chunky, clunky cathode ray tube TVs are numbered as worldwide revenues from slimline LCD (liquid crystal displays) TVs surpassed those of cathode-ray (CRT) televisions in the fourth quarter last year.
Fuelled by football-crazy punters grabbing a gogglebox in time for the World Cup, revenues of LCD TVs in the last quarter sailed past $10 billion for the first time, with flat panel displays now commanding more than 50 percent of the global market.
The figures come from DisplaySearch, a US-based display market research firm, who recorded LCD TV revenues reaching $10.09 billion (£5.84bn, €8.4bn) in the fourth quarter last year, adding up to a hefty 54.3 percent increase from the previous quarter's $6.48 billion (£3.75bn, €5.43bn).
But the trusty old cathode ray tube isn't dead yet, with CRT TV sales rising 9.6 percent from the previous quarter, a modest jump from $6.88 billion in the third quarter to $7.46 billion (£4.32bn, €6.25bn) in the fourth quarter.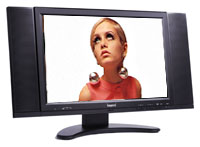 Sales were healthy for plasma-screen televisions, growing 31.3 percent to reach $5.29 billion in the same quarter, giving them the third-largest share of the market after LCD TVs and cathode-ray TVs.
Trailing in fourth place were projection TVs, notching up a 38.4 percent rise in sales revenue to net a record-breaking $2.87 billion.
Looking at the global TV market, the total volume revenues for the fourth quarter last year was estimated to reach $25.49 billion, with LCD TVs accounting for 39 percent, cathode-ray TVs 29 percent, Plasmas at 20 percent and projection TVs at 11 percent.
Commenting on the booming LCD sales, Ross Young, president and CEO of DisplaySearch said, "Now that LCD TVs have overtaken CRT TVs on a revenue basis, the next target for TFT LCD manufacturers is to overtake CRT TVs on a unit basis."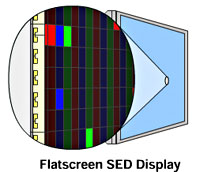 Look out LCDs – here comes SED displays
Despite the healthy sales of LCD and plasma screens, it seems that there's another new technology on the block to tempt upmarket TV-viewers.
Called SED – short for Surface-conduction Electron-emitter Display – the technology is a result of a joint venture by Toshiba and Canon, who have described SED as a major industry milestone, "a once-in-50-years historical turning point for the TV industry, comparable to the initial introduction of CRT television".
Thinner and more energy efficient than LCDs and plasma display panels, SED screens are reputed to deliver clear and vivid images thanks to a light-beaming technology similar to cathode-ray tube TVs.
The sets are due to be out in time for Beijing 2008 Olympic Games, although some pundits are already suspecting that plummeting LCD/plasma prices may seriously damage SED TVs' commercial prospects.
Cathode Ray Tube
SED (Surface-conduction Electron-emitter Display)