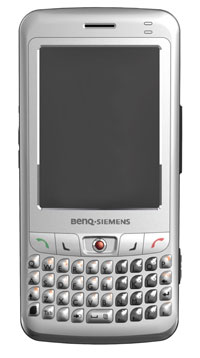 With a veritable orgy of announcements, BenQ Mobile rolled out six new mobile phones at the CeBIT trade show in Germany.
The phones, all going under the BenQ-Siemens brand, include the P51, a quad-band GSM/EDGE GSM/EDGE handset running on Windows Mobile 5.0.
Definitely not one for the pockets of the tight trouser brigade, the chunky P51 wedges in a Treo-like QWERTY keyboard, a large 2.8inch 240 x 320 pixels screen, an integrated SiRF Star III GPS module and a somewhat underwhelming 128MB of memory, along with an SD slot for expansion.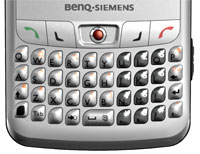 VoIP calls are made possible through the built in 802.11b/g Wi-Fi connectivity and pre-loaded Skype software.
The P51 also comes with a music player (MP3, AAC, AAC+) offering a sound equalizer and 3D surround sound and an integrated 1.3 megapixel camera with LED flash.
The handset is due to be made available in Q3, with prices, networks and stockists to be confirmed.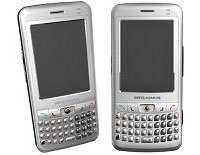 Also announced was the flagship EL71, a tri-band, 16.5mm thin slider phone with a metal casing in brushed aluminium finish. Designed for the "young professional," the phone sports a 2-inch, 260,000-color QVGA display.
The C81 comes with a built-in multimedia player supporting MP3, AAC, AAC+ and AAC++ formats and an integrated 1.3-megapixel camera with 5x digital zoom. Pictures can be printed directly – no PC needed – by Bluetooth via Pictbridge and the phone has a 1.8- inch TFT 262k screen.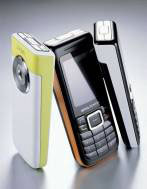 The CL71 slide phone is another slim number (17.8mm) with built-in 1.3-megapixel camera, MP3 player and radio with a 2-inch TFT 262k display offering 176 x 220 picture resolution.
The consumer-oriented CF61 also comes with a music player, Bluetooth and exchangeable covers. The integrated 1.3-megapixel camera allows capture of nine images in quick succession and a voice commentary can also be added to pictures. There's also a built-in music player supporting the usual formats.

Finally, the wedge shaped E61 comes in orange, yellow, or silver, with a built-in VGA camera with 2x/4x digital zoom.