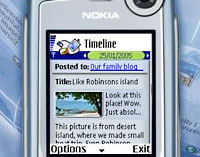 Nokia has launched Nokia Lifeblog 2.0, an updated version of their photo-blogging offering.
Designed for Nokia's Nseries handsets, Lifeblog lets users create a multimedia diary, with photos, video clips, messages and text notes and store them on their phone and/or PCs.
The material is presented in a chronological manner, with the new version of Lifeblog offering the ability to add audio notes, calendar entries and location information, so that users can add some context to their pictures and video clips.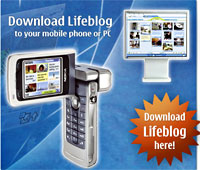 Well, that's how we'd describe the process, but Nokia has a more flowery interpretation, insisting that adding the extra information is "rendering them as part of the rich tapestry of items that make up your personal Nokia Lifeblog timeline."
The new Nokia Lifeblog can be set up to link photos to information about a user's location, the time or calendar entries, so that any photos taken at, say, a wedding, would automatically be tagged with this information from the user's calendar.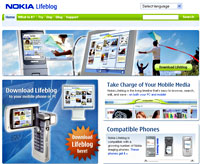 "With imaging becoming an integral part of mobile devices, the way people approach photography is changing. You are able to capture events and create memories in a spontaneous way as your device is always with you," gushed Mikko Pilkama, whose job title is surely unpronounceable after five beers: Director, Nokia Nseries See New, Multimedia, Nokia.
Content from the NSeries phones can be transferred to a compatible PC, and photos and video clips can also be shared directly from PCs via email or by blogging to a compatible service.
The PC version of the software lets users import existing digital photo collection from their hard drive to their phone – this software can be downloaded for free from www.nokia.com/lifeblog.