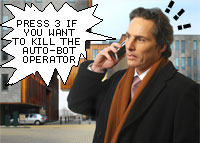 "Press one if you're a customer, press two if there's an 'R' in the month, press three if you want , press four …"
Are you fed up having to press endless key combinations at the behest of a recorded voice every time you ring your bank?
Have you had enough of dealing with automated responses when all you want to do is talk to a phreaking human about your problem?
Then help is at hand, thanks to the wonderful folks at gethuman.com.
Started by Paul English to "change the face of customer service in the US", the site offers wealth of keyboard combinations to bypass squawking, beeping auto-bot operators and get straight to a living, breathing human being.
The non-profit site features long lists of cunning keypad combinations that let users get off the automated phone merry-go-round and straight to the ear of a human operator.
Happily, as well as a large US database, there's a growing list of UK companies, including banks, building societies, finance companies, mobile companies and more.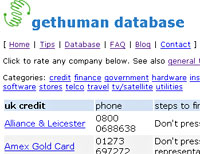 Here's some example entries from the 'gethuman' UK database – obviously, we haven't tested them all, but initial reports have been encouraging, but tell us how you got on.
American Express 01273 576576
Press # at each prompt.
Barclaycard 0870 1540154
Keep pressing 0 when asked for your 16 digit number.
NatWest Gold Card 0870 3331993
Don't press anything. (Ignore 4 prompts.)After two failures, press 2 for an account manager.
Orange 07973 100450
Press 0# each time you are prompted for a number (3 times)
T mobile UK 0845 4125000
Press 0 at each of the first 3 prompts.
The gethuman.com database being constantly updated, revised and expanded and also features some helpful tips and tricks, with a blog offering insights and info, so it's worth keeping an eye on it to see if your bank turns up on their list.
Bookmarked!