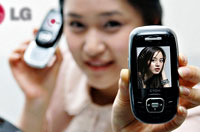 Those clever Koreans at LG are at it again, releasing the ONE PHONE II, a smart new Bluetooth home/mobile phone and the XNOTE TX, a tiny laptop with a built in DMB module.
ONE PHONE II
Also known as the LG-KF1100, this cordless-cellular phone can be used as a mobile phone outside your home and then switch to a cordless phone when you're at home.
Details are still a bit scarce, but it seems that it offers similar functionality to BT's Fusion phone, using Bluetooth to switch phone connections when the user comes within range of a Bluetooth hub.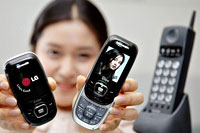 It appears that this phone, however, uses the technology to automatically switch to a landline and not a Wi-Fi home network like the Fusion.
Precious other details have been released yet, although the compact handset offers LG's familiar slide-out keypad design and comes with 1.3MP camera onboard.
XNOTE TX EXPRESS
Cuter than a fluffy kitten all curled up in a ball, LG's latest XNOTE laptop is an attractive, ultra-portable laptop weighing in at just 2.4-pounds, but managing to wedge in a ton of technology into its Twiggy-esque dimensions.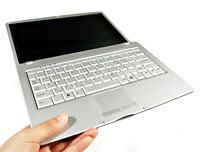 Packed inside its ultra-thin body is 12.1-inch, 1366×768 pixel LCD, a 1.3GHz Intel Pentium-M processor, Geforce Go 7300 graphics, a healthy 60GB disk with support for up to 2GB RAM.
There's also a ton of connectivity in the shape of 802.11a/b/g, Bluetooth 1.2, BlueCore 4, three USB ports, and a 5-in-1 memory card slot and – most interesting of all – the ability to shove in a DMB-module to turn the lappy into a mobile digital TV receiver.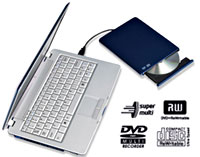 Battery life is quoted around a disappointing 2 hours (up to 8 hours with additional battery), although this plummets down to just 1hr 12 mins if you're using the attached optical drive.
For power users, there's also a core duo version called LG XNOTE S1. This comes with a larger 100GB HDD, upgraded video card ATI Mobility Radeon X1600 and comes with a remote control for sofa-lolling, channel switching action.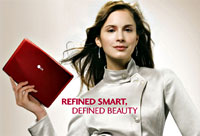 We have to say we're mightily impressed with the desirability factor of the so-small-you-want-to-pat-them-on-the-head XNOTEs and it's great to see LG coming up with design to rival Apple/Sony's finest.
No European release or pricing details released yet, but we're definitely looking at wallet-pummelling prices.