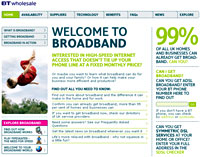 BT has announced that some of its users should be able to obtain broadband speeds of 'up to' 8 Mbps by the end of March.
Following successful trials, Britain's largest telecom company confirmed that the BT ADSL Max and BT ADSL Max Premium broadband services will start rolling out across the country from March 31st.
It's going to be a big job for the BT boys and girls, with the new services requiring the upgrading of more than 5300 exchanges, which together serve more than 99.6 per cent of UK homes and businesses.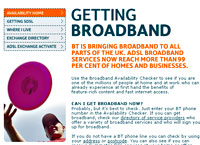 All good news you'd think, but the new connectivity comes with a bag full of caveats related to physical factors, with only those lucky enough to live or work close to their local telephone exchange able to scoop up the maximum 8Mbit/s speed.
BT explained that an estimated 78 per cent of BT phone lines should support broadband at line rates of 4Mbit/s and above, with 42 per cent offering 6Mbit/s and above.
Paul Reynolds, BT's Wholesale chief executive, was keen to big up his company's commitment to broadband availability in the UK "Thanks to BT's continued investment in the broadband network, the UK now boasts the highest level of broadband availability in the G8. We're now building on those efforts in becoming the first operator in the UK to commit to a national service which is capable of broadband speeds of up to 8Mbit/s.
Although BT will be making the faster broadband speeds available to service providers for new orders from the end of the month, existing customers may have to wait "several months" until their lines are upgraded. In other words – loyal customers can go to the back of the queue.
BT's line checker at bt.com/broadband is also being updated to show the expected speeds available for individual lines.