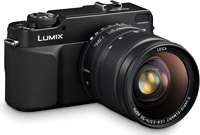 Panasonic's first digital SLR camera with interchangeable lens has been announced at the PMA show.
The DMC-L1 utilises Olympus's Four Thirds System and employs an attractive, solid, traditional design that could prove mighty tempting to old school photographers fed up with fiddly dials and rummaging through onscreen menus.
Coupled with the new Leica D Vario-Elmarit 14-50mm/F2.8-3.5 lens (also announced yesterday), the DMC-L1 serves up a tempting array of hands-on controls, with a large shutter speed dial on the camera's top plate and manual aperture, focus and zoom ring controls (as well as built-in image stabilisation) on the lens.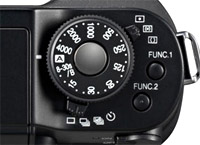 Do we like the sound of that? You betcha!
The 7.5 megapixel camera uses a new Live 4/3 MOS sensor using Panasonic's Maicovicon technology, which claims to deliver "the beautiful images of a CCD sensor with delicate gradation and a wide dynamic range," along with low noise and power consumption.
The camera's innovative mirror box unit offers a Live View function that lets users preview scenes directly on the 2.5inch, high resolution, 207,000 pixel LCD as well as through the viewfinder.
This function can be selected in both Auto Focus and Manual Focus modes, so snappers can enlarge part of an onscreen image to fine tune a picture, with the option to also check the depth of field. Nice.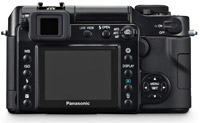 Onboard is Panasonic's Venus Engine III image processing LSI, claimed to consume only 80% as much power as its predecessor, the Venus Engine II.
The camera also utilises Olympus's excellent Supersonic Wave Filter which uses high frequencies to blast pesky dust off the camera's sensor – a real Godsend for photographers fed up with seeing thumping great blotches all over their masterpieces.
The beautifully finished DMC-L1 uses the SD Memory Card format and includes compatibility for the upcoming super-high-capacity 2GB+ SD Memory Cards.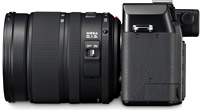 Although full details have yet to be announced, the camera does seem to share quite a bit in common with the Olympus E-330 EVOLT, although the new, Leica-branded lens looks to be a very classy number indeed.
Pricing is yet to be revealed although we suspect your wallet isn't going to like it one bit.