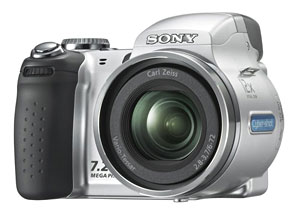 In a flurry of press announcements, Sony have announced no less than four shiny new cameras to add to their popular range of digital compact cameras.
Sony Cybershot DSC-H5 and DSC-H2
It seems that they liked their Cyber-shot H1 so much that's it's spawned two new updates, with both featuring an image stabilized 12x optical zoom, electronic viewfinders and a host of exposure modes including manual, aperture and shutter priority.
The bigger brother Cybershot DSC-H5 sports a 7.2-megapixel CCD with a man-sized three-inch LCD screen, while the DSC-H2 serves up 6 megapixels and a more modest 2.5 inch screen.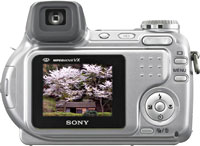 Both cameras come with optical zoom lens offering a huge range of 36-432mm (35mm equiv) at F2.8-3.7.
The combination of Sony's Super SteadyShot optical image stabilisation and high sensitivity settings (up to IS0 1000) should let all but the shakiest folks on wobbly shoes get sharp pictures.
Offering 32MB of internal memory, both cameras take Memory Stick Duo or Memory Stick PRO Duo cards (now available in capacities up to 4 GB).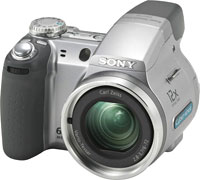 The DSC-H5 camera will be available in May for about $500 (~£287, ~€420) and the DSC-H2 a month earlier for around $400 (~£230, ~€337).
Sony Cyber-shot DSC-W70 and DSC-W100
Slipping in to the front of the W series pack are the DSC-W70 and DSC-W100 compact cameras.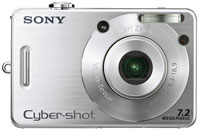 Featuring 8.1 and 7.2 million pixels respectively, the DSC-W100 cameras offer a 3x zoom (38-114mm), eye-level viewfinder and a 2.5-inch screen.
There's some useful manual controls on the DSC-W100, with a manual exposure mode giving up to 46 steps of adjustable shutter speeds (30 – 1/1000 sec) but there's only two steps of aperture control available.
Both cameras offer a wide range of ISO sensitivities with the DSC-W70 covering 100-1000 ISO and the W100 managing an impressive 80-1250 ISO.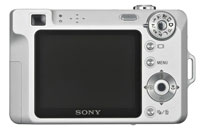 Battery life is an impressive 360 shots on a single full charge, with the W100 coming with 64MB of internal memory and the W70 58MB. Both cameras use Sony's Memory Stick storage.
The Cyber-shot DSC-W100 will be knocking out for $350, and the DSC-W70 for around $300 (~£172, ~€253). Both models are scheduled for release in April and will be available in black and silver.